4 week post Excision surgery update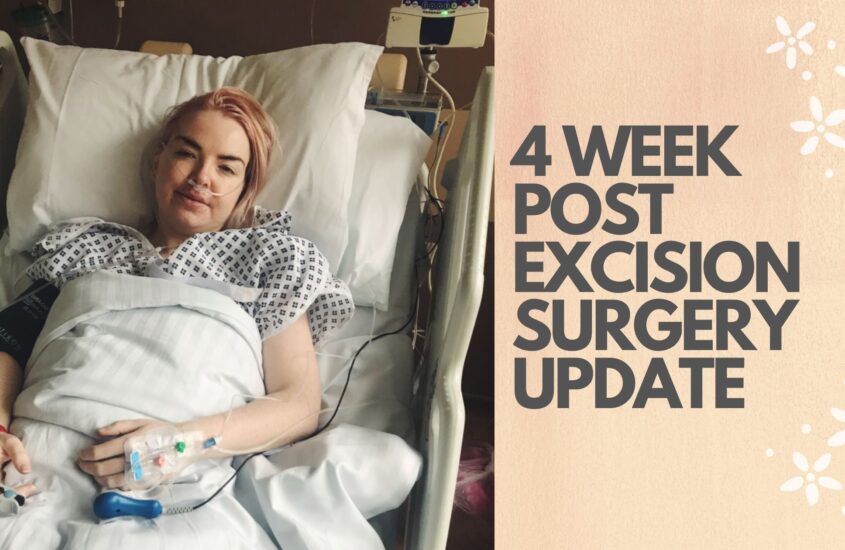 It's been 4 weeks today since I had my Excision surgery and wanted to give you a little update about the operation and how I am doing.
*WARNING – I'VE INCLUDED SOME GRAPHIC PHOTOS*
Incase you didn't know, I had my 8th operation for Endometriosis in Birmingham on March 18th. I finally had my first excision laparoscopy. Excision of endometriosis is an operation that allows us to cut out all the visible endometriosis tissue. This means that once it has been removed, the tissue should not grow back and this is why your symptoms should improve. However, this isn't always the case but you do see an improvement in your symptoms.
The operation
I was in theatre for around 3 hours. I was in recovery for another hour. My poor Mam said she felt like I was never coming back to her. This was the longest operation I have ever had. With 7 previous Endometriosis related operations, you would think I'd be prepared for what I was going to wake up to? Well, nope! It was completely different. The pain hit instantly and I cried when I woke up. I kept shaking and did not want to nurses to leave my side in fear of something going wrong. I also kept having this strange urge to pee but I couldn't and instantly panicked that something was wrong.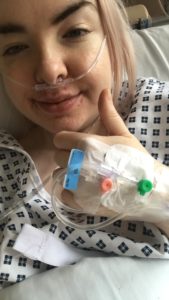 I was handed my morphine pump and I have never loved a thing more. I could control my pain level. I was preparing to be very out of it afterwards, but I was very alert. When Mr. Mann came in to talk to me, he was surprised I was able to take in what he was saying. He asked me did I feel a difference already and I nodded, surprised. I told him I couldn't describe it and he did. He said you probably feel lighter and that's it. He said so much had to be removed and he would be shocked if I didn't feel a difference already. After he left, I managed to sleep for a little while and eventually had some tea and toast! The pain was still uncomfortable but it was my drain that was the most uncomfortable thing. It began to leak and so much, it required a nurse to come clean me up and change my gown. This was where I had to press the morphine pump several times. My night nurse was incredible and kept my spirits up the whole night, even though she gave out that I was awake every time she came in! My oxygen tubes stayed in until I left on Thursday evening. My legs were in compression boots. I couldn't get out of bed without help from the nurses. The most difficult thing was peeing. I badly needed to pee but couldn't for ages. It took being old school and turning on a tap and just waiting for something to happen and Jesus, I thought I was never going to stop! I never saw a nurse as happy to see a commode full!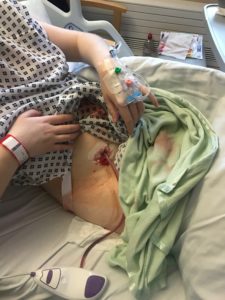 With very little sleep due to the compression boots, I still felt better in the morning. I think the main thing was that I just wanted to get home to Laois as soon as possible. The nurses were saying that I must have an incredible pain barrier because I didn't use the morphine pump as much as other Endometriosis patients who would be no where as sick as I am but deep down, the reason was I was afraid if I used it too much, I wouldn't be let home on Friday. When my gynaecologist came to see me, he said the same thing. He explained the whole operation to me and was in awe of how I coped with the pain. I began to feel a bit emotional that this is a new chapter in my life. I'm not cured but I won't be in as much pain. He said that as soon as I done 8 laps of the hall way, I could leave. So I was up and down that corridor like I was training for the Olympics!!!
My drain was taken out, which was the weirdest feeling ever and once again, I had issues and needed to change my dressings twice before leaving the hospital. I was discharged from hospital around six o'clock, with a bag full of medication.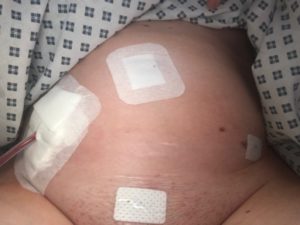 I got the first flight home on Friday March 20th. I was functioning on adrenaline – I just wanted to get home without catching Covid-19. I was doing okay pain wise until we got to the airport. Mam said she could see when it fully hit me. But my focus was still to get home. Thankfully the flight was fairly empty and I had plenty of time to get on the plane. However, I felt every movement and was holding back the tears. Dad collected us and we made it home safe. I immediately had a hot shower, got into bed and managed to sleep for the first time in a few days. I was incredibly sore and in a lot of pain but very grateful to be at home.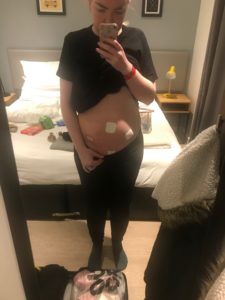 Recovery
The first two weeks home were ok. I was in a lot of pain but I was definitely over doing it with the small things like showering and getting dressed. I also wasn't sleeping. I felt because I could do it the first day, I was fine. However, I should have slowed down and asked Mam for help. Week 3 was a hard week and it all hit me. I was nauseous, very weak and had a horrible migraine. Not to mention the pain got worse. Recovery has certainly had its ups and downs. Week 4 has been good so far but I am listening to my body and when I can't do something, even if it's putting on my shoes, I will get Mam to help. I am still not sleeping so I have asked my GP for sleeping tablets and hoping this will help. If I get proper sleep, my recovery might be easier.
My incisions have NEVER looked better. With my body dysmorphia, I hate changing my dressings to see how horrible my stomach looks but they are ok and healing well. Like some other girls I know who had this operation, I knew the difference between excision surgery and ablation surgery but I didn't think that excision would be as painful, especially my drain incision.
In terms to my mental health, I am doing good. I have my days but that is expected. I'll never be cured and I came to terms with that a long time ago but I could possibly have a normal 20 something year old's life for a few years without excessive pain and needing another operation.
One positive from being in self-isolation is the fact that I am actually resting and I know everyone is delighted about that. I usually try go back to work 2 weeks post op and I'd jump back into my social life but now, I'm not missing out on anything. I'm back to work next week but as we are working from home, it will give me more time to recover.
I'll be a new woman once the world goes back to normal… or well, our new sense of normal!
Sincerely,
Sarah Jane xx
Fatal error
: Allowed memory size of 134217728 bytes exhausted (tried to allocate 20480 bytes) in
/var/www/vhosts/sincerelysarahjane.com/httpdocs/wp-includes/class-wpdb.php
on line
2153
Fatal error
: Allowed memory size of 134217728 bytes exhausted (tried to allocate 32768 bytes) in
/var/www/vhosts/sincerelysarahjane.com/httpdocs/wp-content/plugins/woocommerce/includes/class-wc-log-levels.php
on line
1