Gluten Free Cornflakes and chocolate chip cookies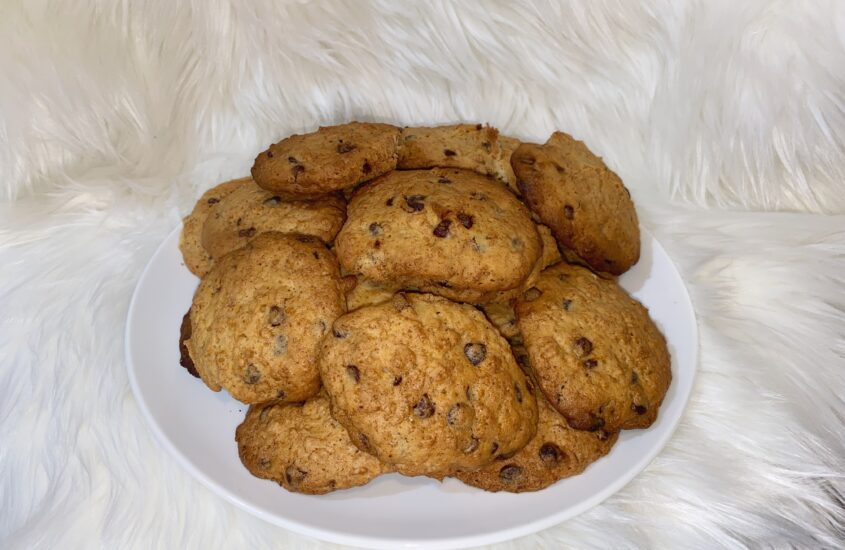 I absolutely love cookies but cookies in the shops don't agree with me any more as they contain gluten and then gluten free ones… well, they taste like cardboard! A few years ago, I saw in Tanya Burr's cook book a recipe for cornflake chocolate chip cookies and was intrigued. I decided to give it a go but made them with less sugar as well as gluten free and oh my goodness, if I do say so myself, these are class.

I recently posted a photo on instagram of these cookies and OMG, the amount of people that asked me for the recipe is crazy! Therefore, I decided for my first post of 2022, I'd share the cookies recipe here for people to have easy access to it for whenever they need it!
Happy baking!!!
Ingredients:
200g unsalted butter
160g caster sugar
1 large egg
300g of Gluten Free self raising flour
200g of milk chocolate chips (or 100g of milk & 100g of dark – which is what I do)
100g of Gluten Free cornflakes

Instructions:

Preheat the oven to 200 degrees.
Put butter on the baking trays and put greaseproof paper/baking paper on them.
Mix the butter, sugar and egg together.
Top tip: use a hand mixer as it is much quicker.
Add the flour, chocolate chips and cornflakes.
Make small balls to put on the baking tray and squash them down to flatten.
Make sure to leave space between each cookie as they will spread.
Bake for 15 minutes. They might take more time but keep an eye one them.
And enjoy!!
Let me know if you bake them and what you think!
Sincerely,
Sarah Jane xx
Fatal error
: Allowed memory size of 134217728 bytes exhausted (tried to allocate 20480 bytes) in
/var/www/vhosts/sincerelysarahjane.com/httpdocs/wp-includes/class-wpdb.php
on line
2153
Fatal error
: Allowed memory size of 134217728 bytes exhausted (tried to allocate 32768 bytes) in
/var/www/vhosts/sincerelysarahjane.com/httpdocs/wp-content/plugins/woocommerce/includes/class-wc-log-levels.php
on line
1