What to pack for a laparoscopy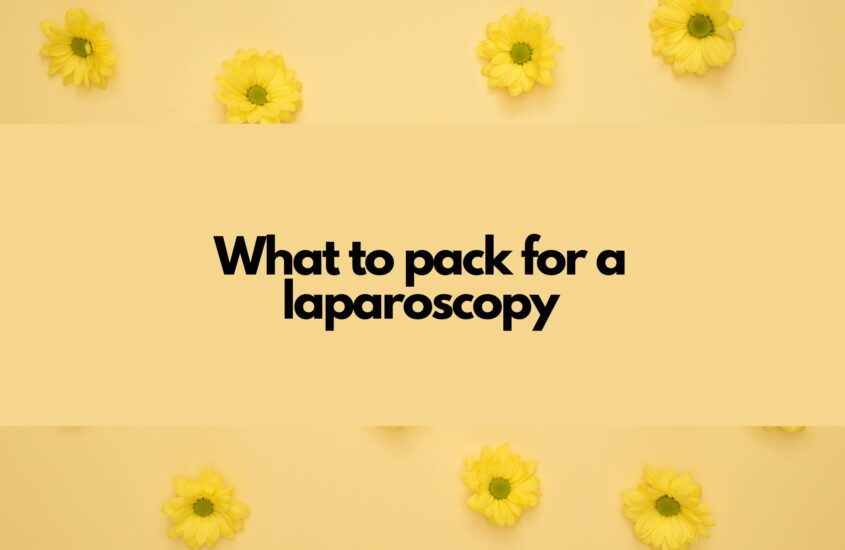 Packing for a laparoscopy, especially your first one, can be very stressful. It is hard to know what you need to bring and then, you end up bringing too much!
After my 10th laparoscopy, and my third one in the UK, I'd like to think I am a bit of an expert when it comes to packing for surgeries at this point. I've learned what to pack, and what to leave at home.
Packing list
ALL of your medical history but specifically your gynae medical history in a folder – really helpful for the nurses & doctor if they don't already have a copy of it
Print a list of all your medication
Print a list of all your previous surgeries
Print a list of your allergies
Extra large underwear – avoid usual underwear. I bring boxer shorts as I find them the best for comfort around lower incisions but I know others bring full briefs
Bralettes – much more comfier than bras post surgery
Nightdresses – avoid pj's with bottoms for a while as nightdresses are much more comfortable
Any medication you are on
Slip on slippers
Hairbrush and hair ties – I usually get my hair braided the morning I go into hospital as it keeps it neat & tidy for a good few days
Light dressing gown
Socks
Pads – the hospital pads post surgery are SO uncomfortable so bring your own
Charger for your phone
Tablet/kindle/book
Headphones
Deodorant
Hand cream
Lip balm
Skincare – trust me, you might not feel like you'd want to be doing your full skin care routine but it makes some difference to how you feel the day after surgery!
Toothbrush and tooth paste
Muslin cloths
Face wipes
Sleep spray – my favourite Feather & Down pillow spray!
Your favourite snacks
Travelling abroad
If you are like me and need to travel abroad for your laparoscopy, there are some extra items that you will need to bring.
Flight documentation
Ensure you have booked travel assistance – I usually book both ways as I can't walk for long distances
Passport
Print out your insurance claim for and give it to the nurse on arrival (don't do what I did and completely forget until 2 weeks later when I found it in my bag!!)
Small cushion/pillow for flight home
If weather is cold, a blanket to wrap around you as well as your body temperature takes a while to regulate post surgery.
Leaving the hospital outfit
During summer time, I'd wear a flow-y dress as it is easy to put on and has plenty of room
During winter time, I'd wear extra large men's tracksuit bottoms as they are looser around the waist and an oversized t-shirt
Slip on runners or shoes
If you use a walking stick or walking aid, make sure to have it with you on the day you leave the hospital.
I hope this packing list will help you with packing for your laparoscopy (or whatever surgery you may be having.)
Make sure to check out my vlog from my most recent laparoscopy below:
Sincerely,
Sarah Jane xx
Fatal error
: Allowed memory size of 134217728 bytes exhausted (tried to allocate 69632 bytes) in
/var/www/vhosts/sincerelysarahjane.com/httpdocs/wp-includes/class-wp-list-util.php
on line
168
Fatal error
: Allowed memory size of 134217728 bytes exhausted (tried to allocate 163840 bytes) in
/var/www/vhosts/sincerelysarahjane.com/httpdocs/wp-includes/plugin.php
on line
177