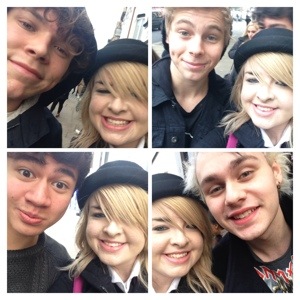 Before you all get carried away thinking I'm talking about Irish summers, I'm not. I am talking about my favourite band, 5 Seconds of Summer. Now I guess you are now asking 'Who the hell are they?'
5 Seconds of Summer are an Australian (and 1/4 New Zealand because of Calum) band who have taken the music world by storm. The young band is made up of Luke Hemmings, Michael Clifford, Ashton Irwin and Calum Hood. It all started back in December 2011, when the boys started uploading home videos to Youtube and pleading to their small group of fans to 'make them famous'! They released their first Ep Unplugged in June 2012 and it went in at number 3 in the Australian iTunes chart but failed to chart in the official music chart. 5SOS soon became known worldwide as one of their fans just happened to be One Direction's Louis Tomlinson and he shared their single Gotta Get Out on twitter and the Youtube views on escalated quickly for the 5SOS boys . They released a second EP in December 2012 called Somewhere New and their success began to grow even bigger. Louis Tomlinson then managed to get the 5SOS boys to be 1D's opening act on their Take Me Home tour in 2013.
Here is an acoustic version of their single Gotta Get Out, the song Louis shared on twitter. [youtube http://www.youtube.com/watch?v=ucT1uhITmCs&w=560&h=315]
The song that made them receive fans worldwide was Heartbreak Girl which features on their EP Somewhere New. To date, the video has over 9 million views on Youtube. [youtube http://www.youtube.com/watch?v=RLLEB4Ac3Hg&w=560&h=315]
Now, before you start thinking 'oh 5 Seconds of Summer must be a boyband if they toured with 1D!' Nope, you're wrong! Don't make the mistake of  classing 5SOS as a boyband, they are a pop rock band. The Aussie boys have worked with All Time Low's Alex Gaskarth, James Bourne from Busted, McFly and Joel and Benji Madden from Good Charlotte.
On February 5th 2014, 5SOS released their latest single She Looks So Perfect worldwide on iTunes for pre-order and immediately, it went in at the number one spot in over 35 countries.
On Friday 28th of March, the boys reached the number 1 spot in Ireland's official music charts.
On Saturday 29th of March, the boys received their first ever official number one in Australia.
On Sunday 30th of March, 5SOS were announced the official UK Number 1 single.
Today, the 1st of April, 5SOS released She Looks So Perfect in America and it went in at number one on the iTunes charts so I expect it to reach the number one spot in the official American charts soon.
For me, being a huge fan since June 2012, this success is so surreal! I can't imagine how the boys themselves must feel.
One thing that is obvious, 5 Seconds of Summer are very grateful to their fans for making them so successful, thanking them daily on their twitter accounts. I've been lucky enough to meet the guys and they are genuinely nice guys and appreciated the fact I had travelled to see them live.
So I'd keep an eye on 5 Seconds of Summer, they are my ones to watch for 2014.
Below is the video for their single She Looks So Perfect and it is such a catchy song, I know it will be that song you can not get out of your head for days after 😛
[youtube http://www.youtube.com/watch?v=X2BYmmTI04I&w=560&h=315]
Fatal error
: Allowed memory size of 134217728 bytes exhausted (tried to allocate 69632 bytes) in
/var/www/vhosts/sincerelysarahjane.com/httpdocs/wp-includes/class-wpdb.php
on line
2154