End of an Era, end of BOD.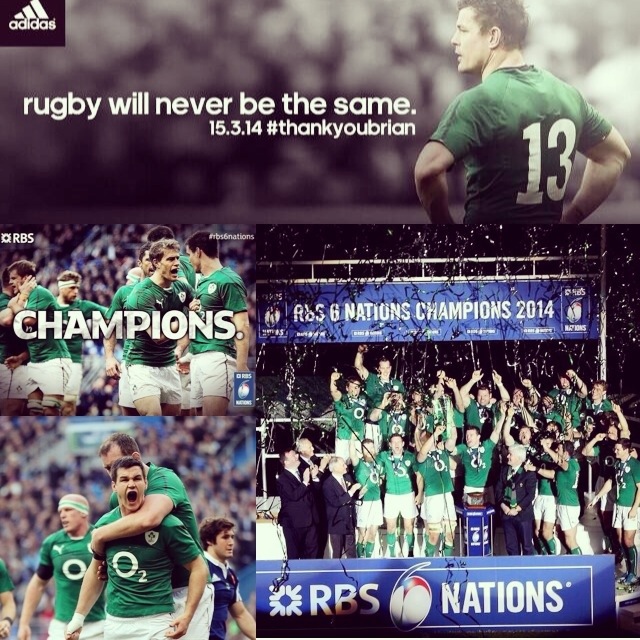 Saturday the 15th of March 2014 is going to be a date every Irish man and woman will never forget! Not only did we win the Six Nations Championship in Paris, but we had to bid a sad farewell to the one and only, Brian O'Driscoll.
15 years ago, Brian made his first appearance for Ireland in Paris and it was quite ironic how his last was to be there too. Throughout his 141 caps for Ireland, he has played some unforgettable rugby, taken many of belts, scored some incredible tries, deservedly won Man of The Match on several occasions and seen many heartbreaking days.
One thing for sure, the number 13 jersey will never be the same! He was a hero for our nation. He made every man, woman and child proud to be Irish on many occasion.
We wouldn't of won the Six Nations with out the one and only BOD. He was the backbone of that Irish squad, being involved in 3 of the tries we scored on that very day. It's safe to say their wasn't a dry eye in the country when Brian said his last few words in the precious number 13 jersey.
There's only one thing left to say and that is: Thank you Brian!
Forget the Oscar selfie, this is what you call a selfie! What a good looking bunch of lads the Ireland team are 😉
Fatal error
: Allowed memory size of 134217728 bytes exhausted (tried to allocate 20480 bytes) in
/var/www/vhosts/sincerelysarahjane.com/httpdocs/wp-includes/class-wpdb.php
on line
2153
Fatal error
: Allowed memory size of 134217728 bytes exhausted (tried to allocate 32768 bytes) in
/var/www/vhosts/sincerelysarahjane.com/httpdocs/wp-content/plugins/woocommerce/includes/class-wc-log-levels.php
on line
1