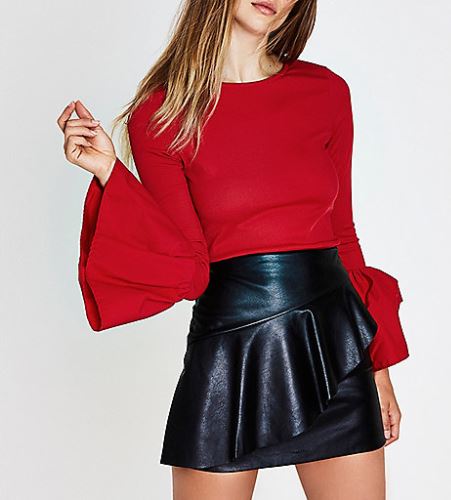 Here is this week's Fashion Friday Wish List which will contain the top things that have caught my eye over the past week.
My top finds this week:
Winter is very much on it's way and it's time to start wearing proper pants. Paperbag trousers are massive this season. Okay, I know they are a are a weird style of trousers but they are very fashionable. The ruffled waist line is balanced out by the elongating effect the length of the legs has and in turn, are very flattering. Make sure you pair them with a crop top or a tight fitting top as the trousers should be the focus point of the outfit.These are available from Littlewoods here and are €38.00.
Jumpers seem to be a big thing for me this AW as I can't stop buying them. My current go to thing in my wardrobe at the moment is my jumpers and culottes, simply but stylish. This jumper is from Littlewoods here and is on sale at the moment for €29.50.
With party season just around the corner, it's now that you need to start thinking about your accessories for all those glam outfits. A safe bet is silver always and it can work for events all year round. Surprisingly, I don't have a silver clutch and have been on the lookout for a nice one. I spotted this one on Littlewoods and love it. I love the little detail at the front to add a bit of something to the bag. It is available here and is €25.
I adore pencil skirts and while I was on the hunt for a nice black one, I came across this gorgeous khaki green skirt and it's even better that it's on sale!! It's only €18!! BARGAIN. It's from River Island and you can get it here. I'm very, very tempted to buy it… right now.
While on River Island's site, I also spotted this gorgeous black leather mini skirt and I realised I don't have one and I need one. I love the frill on this skirt. It makes it a lot more flattering than just a standard mini skirt. It is €43 and available here.
One thing I've noticed lately is more and more dresses have sleeves and I am finding the fabulous! I have become self conscious of my arms since I put on weight and would love a dress like this. The colour is perfect for this time of year. It is from iclothing.com for €45 and is available from here.
Hope you enjoyed my Fashion Friday Wish List.
Happy Friday!
Sincerely,
Sarah Jane xx
Why not have a look at some of my previous Fashion Friday blog posts here.
Fatal error
: Allowed memory size of 134217728 bytes exhausted (tried to allocate 69632 bytes) in
/var/www/vhosts/sincerelysarahjane.com/httpdocs/wp-includes/class-wpdb.php
on line
2154
Fatal error
: Allowed memory size of 134217728 bytes exhausted (tried to allocate 163840 bytes) in
/var/www/vhosts/sincerelysarahjane.com/httpdocs/wp-includes/plugin.php
on line
177