Five Fashion Finds from Irish boutiques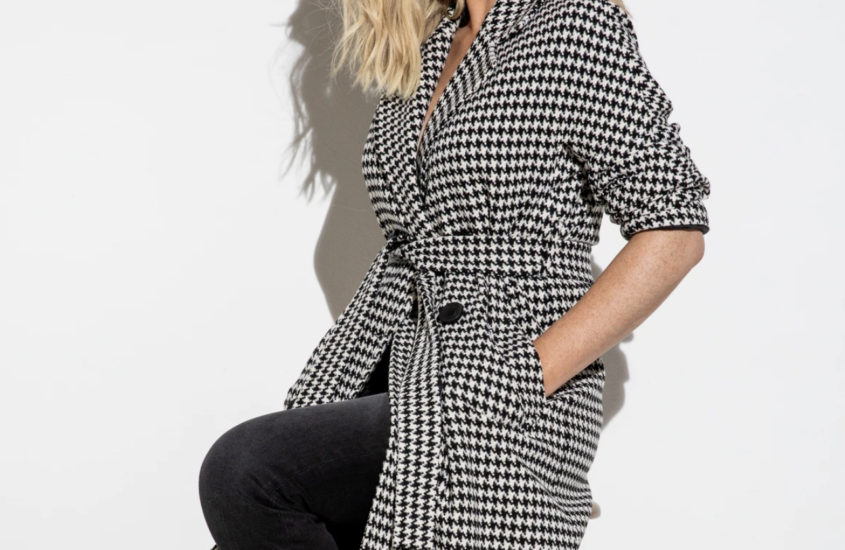 With the year that is in it, more and more of us are shopping Irish and shopping local. I thought I'd put together a blog series where I pick out 5 fashion finds that I think you need to add to your wardrobe!
Houndstooth Coat – POCO – €130
Everyone knows that houndstooth is my favourite print so obviously, my first favourite fashion find had to be this gorgeous coat by POCO. It is such a classic coat and it is the perfect addition to your wardrobe. It's classic longline, double-breasted style makes it The shape of this coat is very flattering on and it comes with a detachable belt.
It is €130 but it's a invest coat and will be in your wardrobe for years to come.
Check it out here.
Pink Frill Detail Cardigan – Get That Trend – €46
The one wardrobe staple that has popped back into 2020 trends was the cardigan as it's a nice way to dress up while WFH. How gorgeous is this pink frill cardigan from Get That Trend?
Check it out here.
Faux Leather Leggings – iClothing – €24.95
When I worked in retail, a particular pair of Spanx leggings with the biker look were all the trend (I remember on Black Friday, I done over 25,000 steps on my shift restocking the floor!!!) However, they are a bit pricey. Therefore, I think these are a great substitute that is more friendly on our budget. I think these are a key item of clothing to have in your wardrobe as you can wear them day and night, and style them with a glam top and heels or oversized hoodie and trainers.
Check them out here.
Green Check Longline Shacket – Vavavoom – €57

The shacket is back again! I'm still undecide if I'm a huge fan but I love shirts so I think these will be a great fit for WFH in the colder months. The best thing about the shacket is it can be styled with anything – skirts, jeans, leggings or tracksuit bottoms!
Click it out here.
Colour Block Maxi Dress – Coco Boutique – €50
Even though we are in lockdown and even though we might not be able to get dolled up for those Christmas nights likes year's past, we should still get dressed up during the festive season at home with our loved ones and try keep our lives somewhat normal. I love a good colour block and I think these two colours together are gorgeous. This style dress is very flattering and forgiving, especially for all those 'covid pounds' we all have this year!
Check out the dress here.
Hope you enjoy this post and the concept of "Five Fashion Finds from Irish boutiques"! Let me know if you purchase any of these items.
Sincerely,
Sarah Jane xx
Fatal error
: Allowed memory size of 134217728 bytes exhausted (tried to allocate 20480 bytes) in
/var/www/vhosts/sincerelysarahjane.com/httpdocs/wp-includes/taxonomy.php
on line
3803
Fatal error
: Allowed memory size of 134217728 bytes exhausted (tried to allocate 32768 bytes) in
/var/www/vhosts/sincerelysarahjane.com/httpdocs/wp-content/plugins/woocommerce/includes/class-wc-log-levels.php
on line
1