Grammys 2015 – Who won what, Best & Worst Dressed and the performances!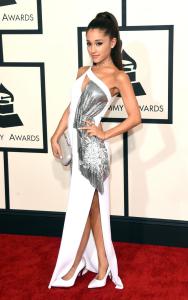 Firstly, I am very sorry this is over a two weeks late! So as I prepare for the big finale of award season, The Oscars tonight (22nd Feb), here's a recap on my favourite awards, The Grammys!
So here's the low down of the night! Sam Smith was the big winner on the night, sweeping up 4 awards including Best New Artist, Song of The Year and Record of The Year. The biggest shock of the night was when Beck won album of the year over Beyonce and then Kanye West tried to repeat what happened when Taylor Swift won over Beyonce back in 2009. Although he hopped off the stage quickly, Kanye was extremely vocal in a post Grammys interview, which you watch here. The performances are the most talked about moments of the night! Beyonce closed the show with 'Take My Hand Precious Lord', John Legend and Common sang 'Glory', Sia performed her hit 'Chandelier' but as usual her face was not seen! Kristen Wiig joined Maddie Ziegler on stage, both dancing in nude bodysuits. Ed Sheeran sang 'Thinking Out Loud' with John Mayer (MY HEART CAN'T HANDLE THAT!!!)The most anticipated performance of the night was Rihanna, Kanye and Paul McCartney performing 'FourFiveSeconds'. It was pretty much the same as the music video but it was still an incredible performance!
My Best Dressed 
Nick Jonas wowed in a Versace suit with yellow plaid details and bright white sneakers.
Ed Sheeran went for a laid back suit look.
Sam Smith wore a classic black suit.
John Mayer wore a handsome slim tuxedo with roundish brown frames.
Ariana Grande – She wore a a sexy white and silver Versace gown with a plummeting slit.
Gwen Stefani – She wore a strapless Atelier Versace jumpsuit.
Megan Traynor – She wore a dark, sheer and lace Galia Lahav gown, with Simon G. Jewelry.
Iggy Azalea – She wore a cobalt blue gown by Armani Prive.
Miley Cyrus – She wore an Alexandre Vauthier black gown with cutouts with minimal make-up and accessories.
Beyonce – She wore a custom Proenza Schouler gown along with emerald jewels.
Taylor Swift – She wore a teal Elie Saab gown with fuchsia Giuseppe Zanotti shoes a pair of aqua Lorraine Schwartz earrings.
Jessie J –  She wore a black Ralph and Russo dress.
My Worst Dressed – I can't even comment on these outfits.
Sia
Madonna
Rihanna
Keyshia Cole
My Best Dressed Couples
Neyo & Monyetta
Kim & Kanye
John Legend & Chrissy
THE CUTEST PERSON
Wiz Khalifa's son!!
The winners on the night were:
Fatal error
: Allowed memory size of 134217728 bytes exhausted (tried to allocate 69632 bytes) in
/var/www/vhosts/sincerelysarahjane.com/httpdocs/wp-includes/class-wpdb.php
on line
2154
Fatal error
: Allowed memory size of 134217728 bytes exhausted (tried to allocate 163840 bytes) in
/var/www/vhosts/sincerelysarahjane.com/httpdocs/wp-includes/plugin.php
on line
177