Houndstooth – My latest obsession!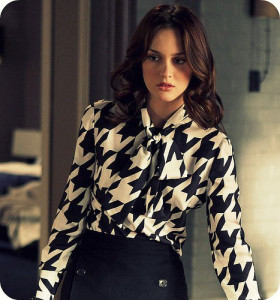 One of my favourite things in fashion at the moment is the Houndstooth pattern. I don't know why I love it so much, maybe because it is quite flattering when on or maybe it's the colours, I simply just love it! Okay if you have no idea what Houndstooth is, I'll explain. Houndstooth is a duotone textile pattern defined by broken check or abstract four pointed shapes, usually in black and white, although it is available in other colours but it looks so classy in black and white. Even though it first came into fashion back in the 1880's, it made a comeback in 2014 and I don't think it is going anywhere soon throughout 2015. If you need more convincing to love Houndstooth, it is visible throughout the majority of seasons of Gossip Girl (and I know Gossip Girl came out 8 years ago, it has become relevant and loved by many recently!). So if Blair and Chuck are wearing it, so should you! Don't believe me? Here's proof!
Below are all of the clothing items I have in Houndstooth so far and I have no doubt more will be added to my collection soon.
Even Kim Kardashian has worn Houndstooth!
So now, go out and buy some Houndstooth clothes!!
Fatal error
: Allowed memory size of 134217728 bytes exhausted (tried to allocate 69632 bytes) in
/var/www/vhosts/sincerelysarahjane.com/httpdocs/wp-includes/class-wpdb.php
on line
2154
Fatal error
: Allowed memory size of 134217728 bytes exhausted (tried to allocate 32768 bytes) in
/var/www/vhosts/sincerelysarahjane.com/httpdocs/wp-content/plugins/woocommerce/includes/class-wc-log-levels.php
on line
1