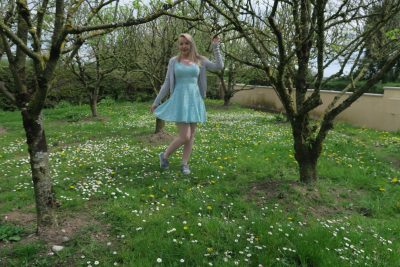 In a couple of days, I am off to Bologna, Italy on a little holiday to visit my two best friends who are on Erasmus there. Bologna is north of Italy and from the snaps I have seen from the girls out there, it looks incredible and I am super excited. I will be travelling with my best friend Sarah and the gal pals will be reunited!
I decide to give you a look at what I have planned to wear on the 6 days in Italy, so continue reading! Unfortunately, most of the clothes I have decided to wear are now unavailable, although there are some new items that are still available! Do not fear though because I am such a nice person, I have researched and found you something quite similar if you would like to purchase! I might add now, that although I work with Celia Holman Lee, I ain't no model. There is a reason why I am just her P.A 😉
My first outfit is what I shall be wearing flying out to Bologna. When flying, I like to wear something comfortable yet stylish. My outfit is simple: High waisted denim jeans, a grey string top (which I am fully aware you can't actually see), a light navy & white jumper and grey Skechers.
Jeans – here
String top – here
Jumper – This jumper is from Pennys (Primark) and I got it recently so it should still be there. It was €8 (I think!)
Skechers – They aren't the exact same Skechers but close enough – here
Next up is a polka dotted jumpsuit with a white crop top and a black floppy hat! This is a fun yet chic look.
Jumpsuit – Sadly, this isn't available anymore and I searched for something similar but there isn't anything like it available.
Crop top – This is from Topshop and I have it in various colours. I can't find it online but I did find it in store. (In London, I might add.)
Hat – here
This little blue dress is one I have had for a good few years now (I have in since 2012 – Reason how I know this is because I wore it when I met Niall Horan!). This dress is such a pretty summer dress and it makes me feel really girly. I am wearing it with my Skechers to make it more of a casual day time look.
Dress – This original dress was from New Look. The closest replica to my dress was this one here from Next.
Something quite similar, except this next dress is more of a mint blue. This dress was from Pennys (Primark) about 2 years ago and €12. I am bringing a cardigan in case it gets a little chilly.
Dress – Again, I can't find the exact dress but this is the same shape of dress here.
Cardigan – It might be blue but it is the same style here. My cardigan is from F&F and was €10.
If you know me, there will always be a Disney themed outfit in my wardrobe. This is another fun and casual outfit that would suit if we were travelling around.
Top – This is from Pennys (Primark) and I only got it a couple of weeks ago, so it should still be there. It was €8.
High waisted shorts – These high waisted shorts are actually from America and I have them YEARS! They are my favourites because they are so comfy. I found something similar on New Look here.
Bandana – here.
I got sick of my face here so excuse me! This is another casual outfit and all from Pennys (Primark) and I just got these last week therefore they should be there still.
Crop Top – €3
High waisted shorts – €12
These grey shorts have my name written all over them. They are high waisted, grey, ripped and have studs on them = MADE FOR ME! They are from Pennys (Primark) are were €12. I grabbed these last week and they are still there.
Lastly, I picked an evening outfit as we are going out on our first night. I went for my go to glam style and that is a maxi skirt and crop top.
Crop top – here
Skirt – here
Shoes – Pennys / Primark and were €8.
That is it, that is all the clothes that will be in my suitcase! I better go pack it now! I will be vlogging while in Italy so watch out for those videos when I am back.
Also, I've always known I am pale and I embrace it but jesus it was so difficult actually taking photos that you could see me in.
I hope you enjoyed this blog!
xx
Fatal error
: Allowed memory size of 134217728 bytes exhausted (tried to allocate 20480 bytes) in
/var/www/vhosts/sincerelysarahjane.com/httpdocs/wp-includes/class-wpdb.php
on line
2153
Fatal error
: Allowed memory size of 134217728 bytes exhausted (tried to allocate 32768 bytes) in
/var/www/vhosts/sincerelysarahjane.com/httpdocs/wp-content/plugins/woocommerce/includes/class-wc-log-levels.php
on line
1