Met Gala 2014 – The Fashion!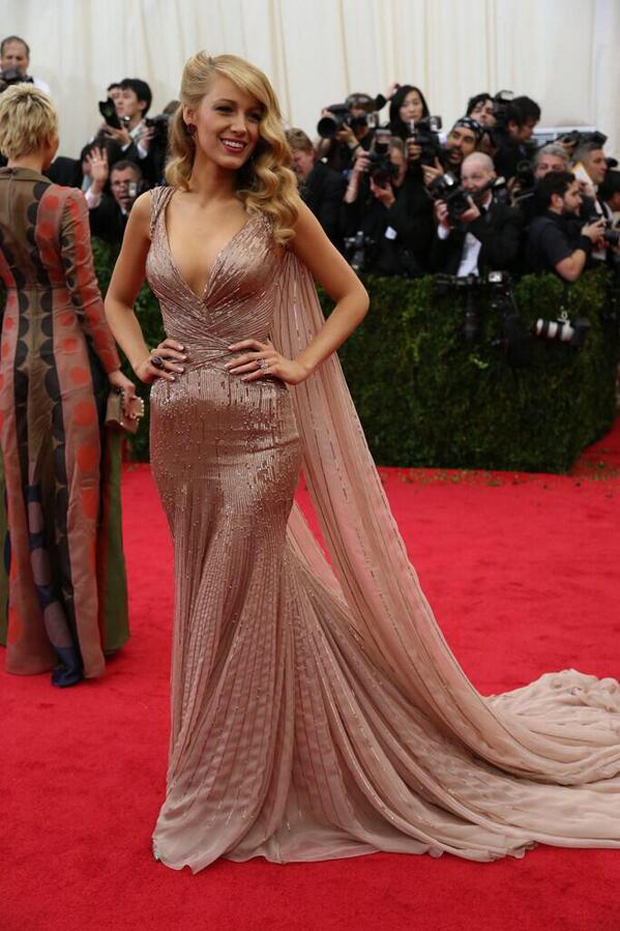 On May 5th, the annual Met Gala took place in New York City. Now for all of you who have no idea what the Met Gala is (where have you been living?), don't worry, I'll explain everything!
The Met Gala, previously known as the Costume Institute Gala , is an annual fundraising gala for the benefit of the Metropolitan Museum of Art's Costume Institute. But it is really known as the biggest fashion event of the year. The event has been held at the Met since 1971 and is considered to be the 'fashion industry's premier annual red carpet event' with all the big name celebrities attending the event yearly to kick off the fashion season with a bang! 
Vogue editor-in-chief, Anna Wintour is the chair of the event and has been for over 19 years. Each year the event has a theme, and includes a cocktail hour and a formal dinner for all in attendance. But fashion comes at a price! It is rumoured that this year, each guest had to fork out €25,000 to attend.
Now I've got all the educational information out of the way, it's now time to talk fashion!
This year's theme was : White Tie and Diamonds. Simple, you would think. Many pulled the theme off perfectly. But many also got it very wrong. I'm not going to waste time talking about the fashion disasters that were Katie Holmes and Sandra Lee!!
My Top 9 Best Dressed Women for 2014
1. My best dressed lady of the night goes to the beautiful Blake Lively. She wore a dazzling pale pink Gucci dress.
2. Kim Kardashian was my second best dressed lady. She got it oh so right this year (remember last years dress? Ugh horrible flashbacks!) This year she played it safe and looking simply stunning. She wore a deep blue and black dress by Lanvin.
3. My number three spot goes to the Queen Beyonce. As per usual, she was spot on with her choice of style. She wore a sparkly black gown by Givenchy.
4. Number four goes to Rihanna. Known for her wild take on fashion, Rihanna wowed in a white midriff-baring Stella McCartney show-stopper.
5. My number five is queen of fashion, Victoria Beckham. She looked so beautiful in her own simple but yet so stylish dress. Who else could pull off their own design on the red carpet? Only Posh!
6. Selena Gomez is my number six as she looked so sophisticated and grown up in this lovely plum dress by Diane von Furstenberg.
7. Now I know many will disagree with this one but Rita Ora is at my number seven. Love it or hate it, she got the theme perfectly right! She is never one to shy away when it comes to fashion and nothing changed at the Met Gala. She looked incredible in her gold Donna Karan Atelier design.
8. Number eight is model-who-can-do-no-wrong-in-my-eyes- Cara Delevingne. Although she didn't look very Met Gala, she still looked gorgeous. She wore head to toe Stella McCartney
9. At number nine is the beautiful Jessica Alba. Her dress was so understated and deserved more attention than it received. She also wore Diane von Furstenberg.
10. And last, but by no means least, Kendall Jenner is my final best dressed of the night. The young model looked so elegant in her Topshop dress.
The most essential accessory on the night for four of my best dressed ladies was their handsome and impeccably dressed man by their side.
With that, 2014's Met Gala is over. The fashion has come and gone. Anxiously waiting for next year's Gala already!
Fatal error
: Allowed memory size of 134217728 bytes exhausted (tried to allocate 20480 bytes) in
/var/www/vhosts/sincerelysarahjane.com/httpdocs/wp-includes/class-wpdb.php
on line
2153
Fatal error
: Allowed memory size of 134217728 bytes exhausted (tried to allocate 32768 bytes) in
/var/www/vhosts/sincerelysarahjane.com/httpdocs/wp-content/plugins/woocommerce/includes/class-wc-log-levels.php
on line
1