My Laois Rose 2015 experience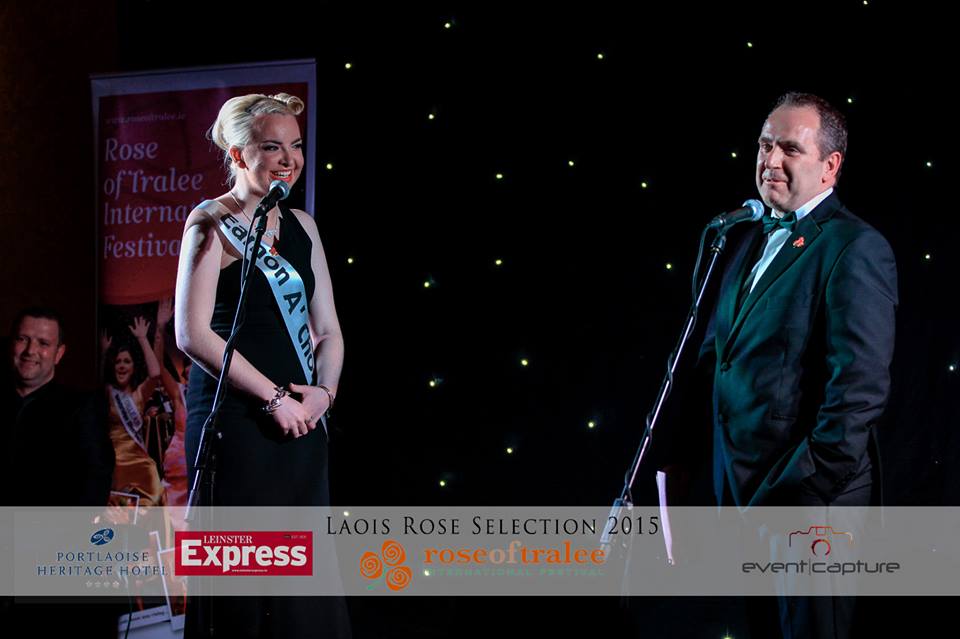 Since the age of 3 or 4, I have always dreamed of being a Laois Rose. This year, I got to fulfil the dream. On January 16th 2015, I met current Rose of Tralee Maria Walsh with my current co-op placement and after robbing her crown and chatting to her, she said 'Sure why don't you apply for the Rose of Tralee? You'd make a great Rose!' So with encouragement from family, friends and Anne Marie in the Laois Rose Centre, I filled out the application and sure the rest is history now.
The whole Laois Rose experience kicked of on April 10th, with our Information night in the Heritage Hotel. I had NO idea what to expect that night and was a bag of nerves! As soon as I walked into the room, I was put at ease straight away, greeted by Bernadette with a warming smile!! When I sat down among the 17 other Roses, I became even more at ease when I saw a few familiar faces and sure you couldn't stop us chatting then. Anne Marie and Bernadette briefed us about the two upcoming dates we had and by the time they were finished, I was more excited than I have ever been before! To get to know the other Roses even more, they had organised for us to go to a local pub for cocktails, a lovely relaxing way to mingle with everyone.
On the 18th of April, we had the Laois Rose Tour. This day was about seeing what Lovely Laois has to offer and 'embracing the cheese' as Anne Marie said multiple times throughout the day! We also got our sashes for the first time and it all became very real then. We went to the Heritage Hotel Portlaoise, Laois Shopping Centre, The Store Yard Portlaoise, Abbeyleix Heritage Centre, Timahoe Round Tower, The Maldron Hotel and Roll 'n' Bowl. It was a fantastic day and a great laugh. All of us got to know each other more and we really didn't want the day to end!
Selection day – The big day! I have never ever been as nervous as I was when I woke up on Friday morning. I was cool as a breeze all week, very excited for the whole thing and then reality hit! I had my first Rose interview at 10:55 am with the three judges. The minute I walked in the room, the nerves eased a little! The judges were so lovely, I can certainly see why they are all part of The Rose of Tralee. I spoke about how I suffer with anxiety and how I did lose my voice 3 years ago and they were so comforting and supportive towards me. That made me feel a lot better. My only regret in the whole experience is how nervous I was in that interview. I panicked a bit on some questions that I could easily talk for an hour about any other day of the week. Sure I was only getting into the interview when Anne Marie knocked on the door! It was off to get the hair done then! We were treated like princess all day really. We had our group interview at 3pm and that was so much more relaxing because I got to go in with 8 other Roses who are now my great friends! We all vibed off each other, it was like a casual gossip with the girls rather than a group interview! I think we impressed the judges so much that the asked us 5 questions instead of 4! As soon as that was over, it was rehearsal time! Before we knew it, Steve was in and telling us it was almost time to kick off the show! To the two beautiful Escorts, who put us at ease throughout the evening and helping us up and down the stage, a huge thank you to you. Brendan Hennessy, the MC, you got rid of my nerves all together! I was so comfortable with him on the stage that I could of stayed up for another 10 minutes chatting away to him!
To the 17 other Roses, you are the most friendliest, kind hearted and fabulous girls I know. I couldn't of asked for better girls to go through this experience with. You made the experience so wonderful, I will truly never forget it. To Ailbhe, The Laois Rose for 2015, the biggest congratulations to you. You are the perfect ambassador for Laois in the Rose of Tralee, you have beauty, a kind heart and effortless grace. I look forward to seeing you on stage with Daithi at Regionals, you'll have your Laois Rose family behind you all the way.
To my sponsor, Eamon A'Chnoic. You have been great. I can never thank you guys enough for allowing me represent your pub and our community. This whole experience has been incredible and without your support, I would have never been able to do it.
To all my family, friends and everyone who has sent me best wishes and supported me, thank you so much. I am deeply touched with all the support I received and it meant the world to me. I just hope I done everyone proud.
To Anne Marie, Bernadette, Sarah and Teresa, Thank you so much for everything, especially the words of encouragement when I was so nervous or anxious. The amount of work you guys done with us over the past three weeks is mind blowing, and you always graced with smiles and comforting hugs. You are very admirable women and I am blessed to have been in your company. To anyone who has ever considered going for Laois Rose, do not hesitate. Take the risk. It is totally worth it.
This whole experience has been amazing. It has help me grow as a woman and has definitely helped with my confidence. I am so proud to be associated with such a great organization.
I most definitely will go again, maybe when I'm a little older, wiser and more experienced. That is if the Laois Rose Centre will have me again! 😉
Fatal error
: Allowed memory size of 134217728 bytes exhausted (tried to allocate 69632 bytes) in
/var/www/vhosts/sincerelysarahjane.com/httpdocs/wp-includes/class-wpdb.php
on line
2154
Fatal error
: Allowed memory size of 134217728 bytes exhausted (tried to allocate 32768 bytes) in
/var/www/vhosts/sincerelysarahjane.com/httpdocs/wp-content/plugins/woocommerce/includes/class-wc-log-levels.php
on line
1