My top picks from Dunnes Stores AW17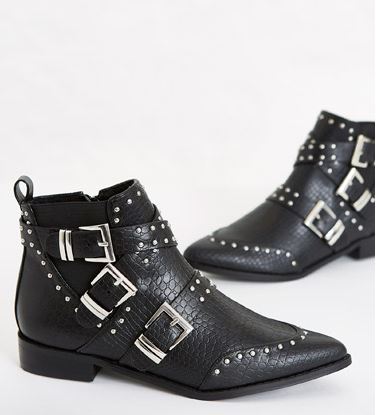 This year, Dunnes Stores AW17 is absolutely slaying it when it comes to style. Many people often forget how fashionable some of the pieces are there and for a reasonable price too! I have picked out some of my favourite pieces for AW17 below!
If you have been following my style for a while now, you would know that I am a huge fan of the Pussybow styled top. When I spotted this top, I fell in love!! It is so stylish and can be worn in the office and for a special occasion! I would tuck this into a navy pencil skirt with wine or nude shoes! It is €30 and available here.
One thing I love about Dunnes Stores is the sophistication that comes with their clothes. This shirt can be worn to work or as a casual day out outfit! I would theme it with a pair of high waisted black jeans a pastel cardigan and converse for a daytime look. For evening, I'd change shoes to a heel and drop the cardigan! This shirt is €35 and available here.
My favourite piece:
These boots are my favourite piece that I have spotted and I may just have to purchase them. For AW, you can never go wrong with boots and these are simply gorgeous!! They are grungy with a hint of chic. They are €45 and available here.
The waterfall coat is back and better than ever. It is probably a key piece to your wardrobe this year and this is my warning that you should make an investment into one if you want to be on trend!! Most of my coats are from Dunnes Stores and have lasted me for years so I'd make the investment! Grey seems to be the popular colour for the style and this one is very similar to others on the high street. It is €60 and available here.
Oooh I love a nice printed pencil skirt! I feel that these are very flattering and so stylish. I would probably keep this one for a special occasion or a night out! It also has a frill design on the front to add that something extra to it. This skirt is €35 and available here.
Happy shopping!
Sincerely,
Sarah Jane xx
Fatal error
: Allowed memory size of 134217728 bytes exhausted (tried to allocate 36864 bytes) in
/var/www/vhosts/sincerelysarahjane.com/httpdocs/wp-includes/class-wp-list-util.php
on line
168
Fatal error
: Allowed memory size of 134217728 bytes exhausted (tried to allocate 32768 bytes) in
/var/www/vhosts/sincerelysarahjane.com/httpdocs/wp-content/plugins/woocommerce/includes/class-wc-log-levels.php
on line
1