Nathan Carter – Live at the Marquee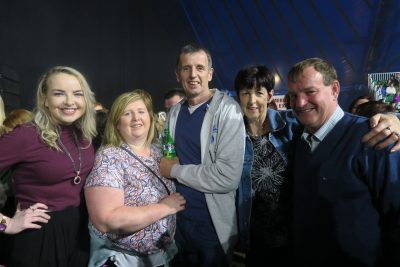 Without a doubt, he is the biggest name in Country and Irish music currently. He has even made Country music popular again. Yes, I am talking about the Country heartthrob Nathan Carter. I put on my best dancing shoes and grabbed a few members of the family and headed down south to the Marquee in Cork to see what he was all about!
I'll admit it – I have only recently fallen under Nathan's spell and now, I have been asking myself what has been wrong with me all this time?
I have always grown up loving Country music although I have been embarrassed to admit it until now, NOW I DON'T CARE. In fact I'm proud of it, that I have a wide range of musical tastes!
The Marquee in Cork is one of my favourite concert spots so I knew I was in for a good night. It was full to the brim with a sold out crowd of 5,000 people!
The main man himself can on stage a little before 9pm and Jesus, he put on quite a show. He first came out dressed very smartly in a 3 piece suit and oh my, he had me very flustered 😛
He sang covers, such as 'Good Time Girls', 'Caledonia' and 'Two Doors Down' and new material like 'Temple Bar' & 'Skinny Dippin' and sure the place was only bopping!
He even had a costume change and stripped out of the suit into something more casual!
Nathan showed off his musical talents, when he sang a couple of his songs while playing the piano.
Many often question his success and mock him for only being famous because of his good looks but Carter is incredibly talented and although he sings mostly cover songs, he sings them pretty damn well!!
Nathan Carter made playing an accordion a very sexy thing and I never knew that a handsome man playing an accordion is a turn on for me…
For €35, I got what I paid for and much more. Nathan is the second ever artist I've seen live to break stage curfew – he played for a little over 2 hours!
So now, I've lost my Nathan Carter concert virginity and you know what? I'm glad I did 😉
Fatal error
: Allowed memory size of 134217728 bytes exhausted (tried to allocate 20480 bytes) in
/var/www/vhosts/sincerelysarahjane.com/httpdocs/wp-includes/class-wpdb.php
on line
2153
Fatal error
: Allowed memory size of 134217728 bytes exhausted (tried to allocate 32768 bytes) in
/var/www/vhosts/sincerelysarahjane.com/httpdocs/wp-content/plugins/woocommerce/includes/class-wc-log-levels.php
on line
1