Sounds Live Feels Live Tour in Dublin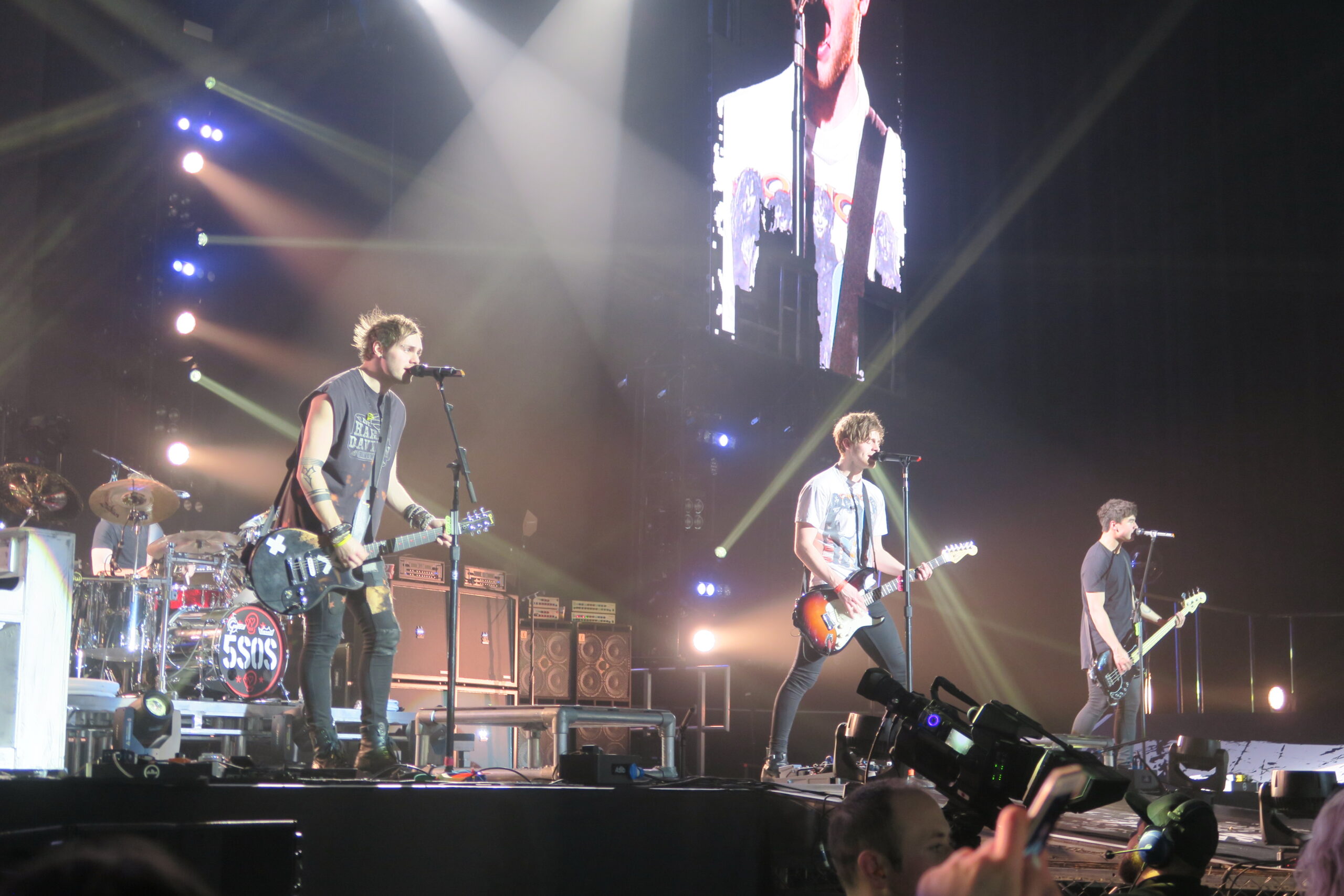 It has been two weeks since Australian pop punk band 5 Seconds of Summer rocked up to Dublin to perform 2 sold out nights in Dublin's 3Arena and they put on a seriously good show!
Okay so I unashamedly will admit this: I WENT BOTH NIGHTS. I know, such a fangirl. It gets worse. It was my 12th and 13th time to see them live since 2013. I just can't help it, they are my thing, I just need to seem them live, like all the time! I even considered just going on the whole UK & Ireland leg of the tour but you know, I ain't rich so that plan was put to bed. I usually go to London for 1 date but due to SO MUCH university work this year, I had to call a rain check on that and it broke my heart because it meant I wouldn't see my fave 5SOS friend Giana. It's all good though, we have plans for next tour already 😉
In case you are completely clueless as to who the hell I am talking about, I'll help you out there! I wrote a blog about them a few years ago now actually, so you can check that out here to bring you up to speed!
Their second album, Sounds Good, Feels Good was released on October 23 worldwide and went to Number 1 on the charts worldwide, including Ireland! In just one year since their self titled album '5 Seconds Of Summer', they have matured their sound and produced some amazing songs on this album. A key thing to take note is that the guys actually wrote all their own material for the album and some of the lyrics came from personal experiences. I am still  trying to decide my favourite song, get back to me on that 😉
One of my favourite parts of a 5SOS show is the queue because that is when we drink and catch up ( we typically queue for like 10 hours!!!). This time was a little different as I went with my friend Lisa (both nights!). But somethings never change and we did drink, causing us to get some strange looks from the young ones around us! We did make some friends in the queue both nights also! Still, I missed Gi!
On Tuesday night, we were on Mikey's side and in typical Sarah Jane style, we were very close to barrier. I mean, we were 3 rows away. So close that the feedback from the speakers ruined my videos, but I didn't care. I was happy out being on this angel's side all night!
On Wednesday night, we were on Calum's side and Lisa was only delighted! And again we were 3 rows away from barrier. So I am your girl if you need to be close to stage okay?! Well it actually only happens at a 5SOS show but still *hair flick*
The set list for both nights was as follows:
Carry On
Hey Everybody!
Money
Voodoo Doll
Don't Stop
Outer Space
Waste the Night
Castaway
Jet Black Heart
Amnesia
Beside You
Vapour
Catch Fire
Disconnected
End Up Here
Good Girls
Permanent Vacation
What I Like About You
She's Kinda Hot
She Looks So Perfect
On Tuesday night, they did do a short cover of The Script's The Man Who Can't Be Moved.
I vlogged both days and shows and you can check them out below.
[youtube https://www.youtube.com/watch?v=b6QVX7L2CiA&w=560&h=315]
[youtube https://www.youtube.com/watch?v=cEs3xTojIEQ&w=560&h=315]
Stupidly enough, we decided not to go out after Tuesday's night show, even though we had planned to head to Dublin's finest nightclub, Copper Face Jacks, but when it came to it, we decided to get pizza. I got a text at around 3am asking if I went out because a certain band WENT TO COPPERS!!! Ugh!
This is where my Mam would say 'It wasn't meant to be, don't worry, there is always next time!', even though that is the second time it has happened!!!
Anyway, the guys took a well deserved two weeks off and our now about to embark on the European leg of the Sounds Live, Feels Live tour.
If you are lucky enough to be going to see them somewhere around Europe, you are in for one hell of a show 😉
Don't worry, there are some tickets still available and you can check here for more details.
Fatal error
: Allowed memory size of 134217728 bytes exhausted (tried to allocate 20480 bytes) in
/var/www/vhosts/sincerelysarahjane.com/httpdocs/wp-includes/class-wpdb.php
on line
2153
Fatal error
: Allowed memory size of 134217728 bytes exhausted (tried to allocate 32768 bytes) in
/var/www/vhosts/sincerelysarahjane.com/httpdocs/wp-content/plugins/woocommerce/includes/class-wc-log-levels.php
on line
1