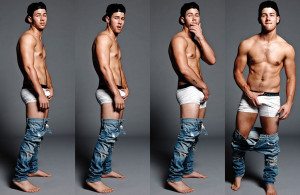 Just a little over two weeks, Nick Jonas got females, young and old, hot under the collar with these photos from his photoshoot with Flaunt Magazine.
Nick posed for the October's Issue of the magazine and even recreated Mark Wahlberg's well loved Calvin Klein's advertisement back in 1992, where he famously grabbed his crotch and 22 year old Nick Jonas dropped his pants and done exactly that to shed his Disney star image.
Nick Jonas' PR team knew exactly what they were doing signing Nick up to this shoot and spreading these photos over the internet. Nick is currently releasing new music and has a new album coming out soon in the US and early next year in Europe. What a way to get your name back into the media!
Nick ditched the 'innocent' Disney star look and buffed up for the return to the music scene. Nick's new album is set for release in November (unknown when it will be released over here!) which apparently has a much more mature sound. So it only makes sense that he strips off to catch people's attention right? 😛
In the interview with Flaunt Magazine, Nick said : "I really try to be aware of the purpose of each song. There are songs on my record that I want people to have sex to, and songs people can listen to when they're pissed off,". Well I'm sure Nick is going to get a lot more offers to have sex to his new tunes after everyone has seen these photos! 😉
'Chains' is one of his new tunes and even the title of the song is very sexual. I'm totally loving his new sound! Check out the video.
'Jealous' is the first single off his new album.
These photos didn't go down very well with everyone though. It's been over a year since fellow Disney star, Miley Cyrus, launched her new image to the world and that didn't go down as smooth sailing as Nick's did. Many celebrity sites and magazines called her a 'whore' and said how her new image was extremely inappropriate for being known as Hannah Montana.
It's quite sad that it's one rule for her and one rule for Nick. It's about time equality happened! I happen to love how they both aren't afraid to change their image. But that's another argument for another day!
For now, enjoy these BEAUTIFUL pictures of the ever so sexy Nick Jonas and his new sexual music! 😉
Fatal error
: Allowed memory size of 134217728 bytes exhausted (tried to allocate 20480 bytes) in
/var/www/vhosts/sincerelysarahjane.com/httpdocs/wp-includes/class-wpdb.php
on line
2153
Fatal error
: Allowed memory size of 134217728 bytes exhausted (tried to allocate 32768 bytes) in
/var/www/vhosts/sincerelysarahjane.com/httpdocs/wp-content/plugins/woocommerce/includes/class-wc-log-levels.php
on line
1