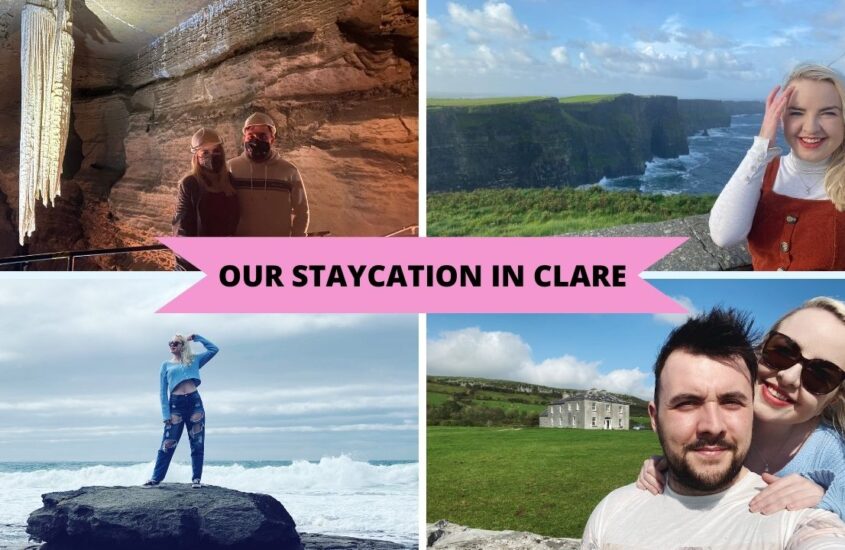 Without a doubt, the year 2020 will be remembered for the Year of Staycations. Due to Covid-19 bringing international travel to a halt, we had to rethink how we holiday. For years, many Irish people, including myself, wouldn't have even considered being a tourist in dear old Ireland but alas, 2020 changed that and thank god it did. We got to indulge in the natural beauty and history that is steeped throughout Ireland. We finally took the plunge and went on our first staycation to Clare.
Hotel
We stayed at The Inn at Dromoland and it was lovely. You could tell it had been done up in the last 4-5 years as the interiors were beautiful. The staff were extremely friendly and helpful, so much so they even offered to make us takeaway breakfast trays with pastries & tea/coffee when I told them I was dragging Declan to the Cliffs at 8am!
It was very affordable, costing €207 for two nights including breakfast. We had dinner and afternoon tea in the hotel and the food was simply delicious. My favourite was the Afternoon Tea as they made me a tray of treats just for me that were all Gluten Free, which was a first for me as I would usually get a small plate with a select few treats. It was incredible and definitely one of my favourites. Check out the menu here.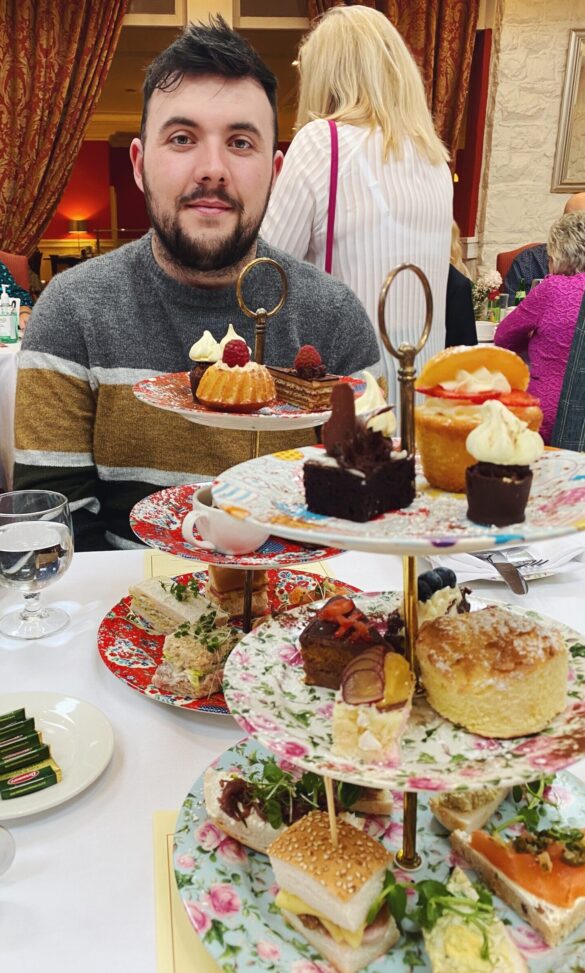 For more information about the hotel, you can check it out here.
Attractions
Bunratty Castle On the way to our hotel on the Friday, we made a stop off at Bunratty Castle. I have never actually been to Bunratty Castle which I am very ashamed to say, but of course, I have been to Durty Nellys beside it. The castle was beautiful and I could only imagine what it is like to have a banquet there. There is more to Bunratty Castle than the actual castle and the grounds holds lots more. There is a Folk Park with lots of history and I was even lucky enough to feed Meabh and Saoirse, the two Irish Wolfhounds that live in the Folk Park.

Tickets for Bunratty Castle were €15.25 and can be purchased here.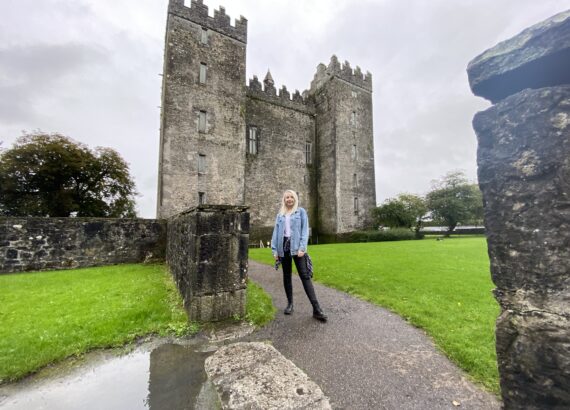 Cliffs of Moher Now, Declan might have different to say about our experience at the Cliffs of Moher but it was my favourite part of our trip. For the last 4 years, I have written 'Go to Cliffs of Moher' on my yearly goals and it only fecking took a pandemic to get me there. We got to the Cliffs around 8:30am. I booked the early slot for three reasons; good weather, less people and of course, the good lighting for photos. However, someone else *Declan* wasn't too happy about the early call (he may get used to it) as he complain for a good while but I know deep down, he was glad I did because it was breathtakingly beautiful. Now, if you go, dress warm and ladies, tie your hair up lol!

Tickets were €7 and you can book them here.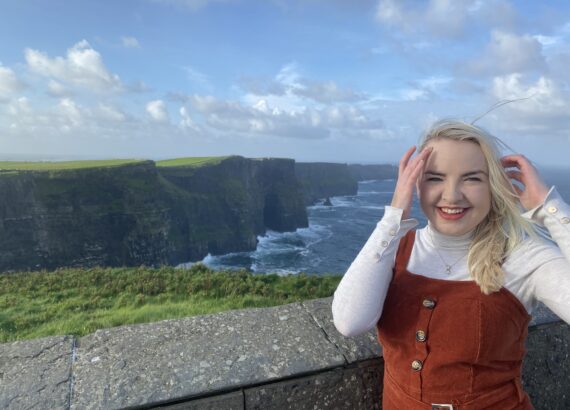 Doolin Café
After we finished up on the Cliffs of Moher, we were on the hunt for breakfast. I had remembered a girl I follow on Instagram mention that Doolin Cafe does Gluten Free pancakes so we headed there. And we were so lucky as they were closing on the Sunday for the season. It was lovely and the staff were fantastic. Next year, make sure you add it to your list. Check the cafe out here.

Doolin Caves We originally were supposed to go to the Aillwee Caves but after our breakfast in Doolin, we saw signs for Doolin Caves and said feck it, let's go there. We had our own personal tour guide (there was only the two of us for the tour at that time which was great!). We didn't really know what to expect but wow, we were delighted on our whim decision. We had to practically crawl along the cave with our hard hats on but it was so interesting. Did you know the largest Stalactite in Europe was in Doolin? No, neither did we!! One of the moments I loved about Doolin caves was as we entered the main part of the cave, we did in darkness, just like the two men who discovered it many years ago and wow. When the tour guide turned on the lights, it was spectacular seeing the 7.3M, 10 tonne Stalactite before our eyes.

Tickets were €17.50 and you can book them here.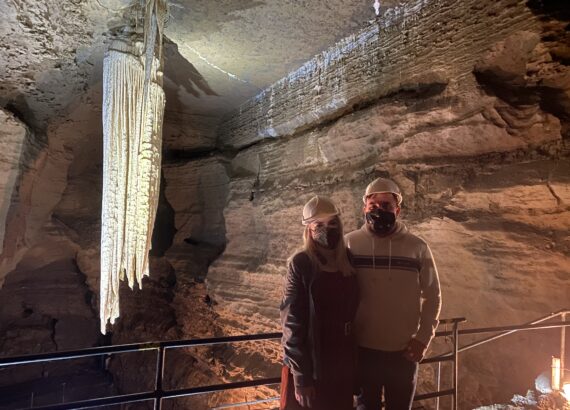 The Burren

On Sunday, we made the spontaneous decision to go to The Burren. The Burren is one of the largest and most accessible Karst regions in the world. It is the only place on the planet that Arctic, Mediterranean and Alpine plants grow side-by-side. It is a place rich with scenic view deeply rooted in the landscape of the region.
Every corner we turned, it was more beautiful than the last. We did walk half way up the trail but I was getting tired (joys of Endo!) and it said it was another 2 hours until the lake, so we turned around and headed back to the car.

For more information, check out the website here.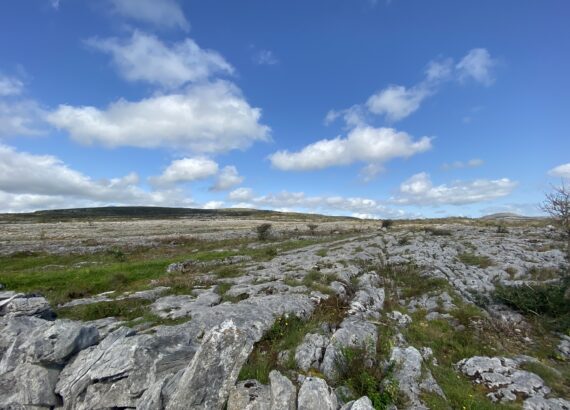 Father Ted's House Another spontaneous decision we had as when we were deep in the Burren, we both remembered that Father Ted's House was here so popped along to see it. When we arrived, there was a few people (one driver got on Declan's nerves, make sure to ask him about that one lol) and the weather was lovely, apart from a little wind. By the time we had finished taking photos, the crowd had increased so we quickly got out of there.

For more information about Father Ted's House, click here.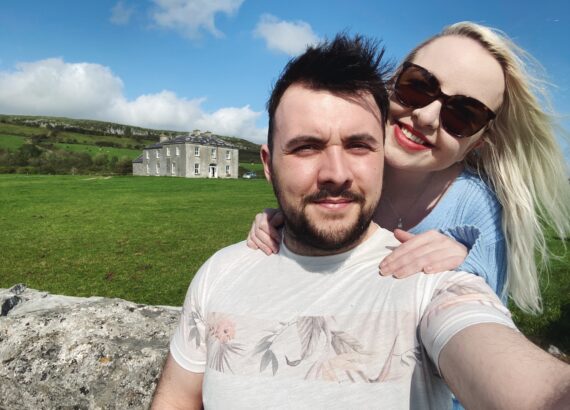 Fanore Beach

One place that I really wanted to go to on Sunday was Fanore Beach. It was a bit of a drive (on a verrrrrrry narrow road) but it was extremely picturesque. I really wanted to go to this beach as I had seen so many of my favourite influencers post about it. I love the smell of fresh sea air and the sound of waves, so I was in my element wandering along the beach. The beach itself was incredible, and although, we weren't dressed for it, we still made the most of it. Declan being the class Instagram boyfriend he is, saw a rock formation from the steps down and we went to take some photos. The fun part was jumping and climbing over the rock pools and trying not to get wet. We laughed so much, I say people thought something was wrong with us. It was the perfect way to end our first staycation in Ireland.

For more information about the beach and area, check it out here.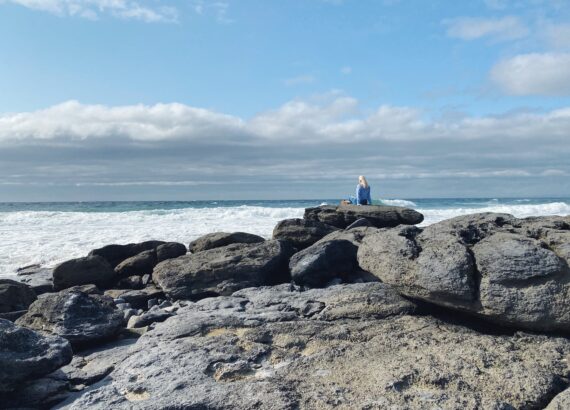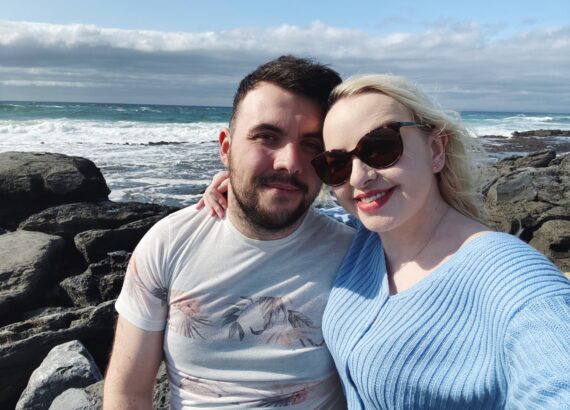 And that's it – our first staycation over! Let me know if you've been to Clare and what you've done. Also let me know where you've been on your Irish staycations this year.
We are doing some day trips to Kildare this weekend (hopefully) so if you have any recommendations, please leave a comment.
Sincerely,
Sarah Jane xx
Make sure to check out my YouTube video below:
[embedyt] https://www.youtube.com/watch?v=yTfRmg0ccLA[/embedyt]