BAFTAs 2015 – Who won what, Best and Worst dressed!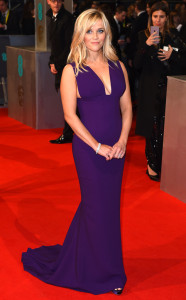 The British Academy of Film and Television Arts aka BAFTA Awards were held on Sunday 8th of February at London's Royal Opera House with Stephen Fry hosting the award ceremony.
My Best Dressed
Reese Witherspoon looked simply beautiful as she donned a plum-colored Stella McCartney dress.
Rosamund Pike played it safe at the BAFTAs (she's made up for her fashion disaster at the Golden Globes which you can read about here!!) She looked very classy in a long halter Roland Mouret dress.
Dianna Agron wore a beautiful red Lanvin dress. While many critics have said this is a 'miss', I think she looks gorgeous!
Amy Adams donned a very flattering white Stella McCartney dress with a detailed waistline. Amy is slaying these award shows this season with her excellent fashion choices!
My Worst Dressed
Imelda Staunton. This Vivienne Westwood dress is in no way flattering for Imelda. It's too big for her petite frame.
Felicity Jones. The top of this dress is nice. However, the bottom of the dress is horrible. It is so unflattering. It is also very creased. Not a great red carpet look. She wore Dior.
Hofit-Golan. No words for this dress. I am just going to leave it at that.
My Best Dressed Couple 
Sam Claflin and Laura Haddock looked divine. Laura looks like a princess in her Ashli Couture dress. Sam Claflin looked incredibly handsome.
Best Dressed Men
Eddie Redmayne is the actor at the moment for his performance in Theory of Everything. He is also the best dressed actor at the moment. He is also very cute!
David Beckham is always, always gorgeous! He looked ever so handsome at the BAFTAs.
Jack O'Connell, who won EE BAFTAs Rising Star award on the night looked very dapper.
The winners on the night were:
Best Film: Boyhood
Leading Actor: Eddie Redmayne, The Theory of Everything
Leading Actress: Julianne Moore, Still Alice

Supporting Actor: J.K. Simmons, Whiplash
Supporting Actress: Patricia Arquette, Boyhood

Outstanding British Film: The Theory of Everything
Original Music: The Grand Budapest Hotel
British Short Animation: The Bigger Picture
British Short Film: 
Boogaloo And Graham
Documentary: 
Citizenfour
Editing :
 Whiplash
Production Design: 
The Grand Budapest Hotel
Makeup & Hair: 
The Grand Budapest Hotel
Sound: Whiplash
Animated Film: The Lego Movie
Special Visual Effects: Interstellar
Cinematography: Birdman
Outstanding Debut by a British Writer, Director or Producer: Stephen Beresford and David Livingstone, Pride
Original Screenplay: The Grand Budapest Hotel
Film Not in the English Language: Ida
Adapted Screenplay: The Theory of Everything

Costume Design: The Grand Budapest Hotel

The EE Rising Star Award: Jack O'Connell
Director: Richard Linklater, Boyhood
Original Music: The Grand Budapest Hotel
So now we have to patiently wait for the big night, THE OSCARS on February 22nd!
Fatal error
: Allowed memory size of 134217728 bytes exhausted (tried to allocate 20480 bytes) in
/var/www/vhosts/sincerelysarahjane.com/httpdocs/wp-includes/class-wpdb.php
on line
2153
Fatal error
: Allowed memory size of 134217728 bytes exhausted (tried to allocate 32768 bytes) in
/var/www/vhosts/sincerelysarahjane.com/httpdocs/wp-content/plugins/woocommerce/includes/class-wc-log-levels.php
on line
1