In Crazy, Stupid, Love with comeback queen Cheryl!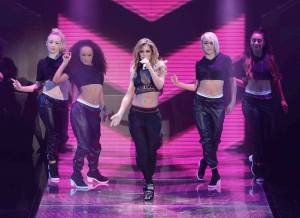 Summer 2014 belongs to one female star and that's Cheryl Cole, wait, I mean Fernandez-Versini!
It all started back in Spring when Mr. Simon Cowell somehow manage to get Cheryl back on the judges panel for X Factor 2014 and with that, her name was back in the headlines and she was back under the spotlight!
On May 8th, she announced was going to be appearing at Capital FM's Summertime Ball at Wembley Arena, one of the biggest concerts in the UK! This was her first musical event in over two years so she had a lot of pressure on her already and with having no new music at the time, her fans and the media began to wonder if this was a good idea. But Chezza always knows what she's doing! On May 29th, she declared she had new music on the way and that Crazy Stupid Love was her new single, saying 'Ready or not I'm coming for you !!! #CSL!'
On June 8th, she performed Crazy Stupid Love on Britain's Got Talent and like always, she slayed her performance!
On June 9th, Cheryl released her video for Crazy Stupid Love and wow, she CAN dance! If I needed anymore reason to be jealous of Cheryl, that's it, I wish I could look as good as her when she dances! (But because I have watched the video like 1 million times, I almost know every move off by heart.. Whatcha think Cheryl, dance battle next time you're in Dublin? 😉 )
Cheryl never fails to dazzle the crowds at Cannes Film Festival and this year was no different! She wore a Monique Lhuillier dress on the red carpet, attending Channing Tatum's new movie, Foxcatcher. While attending the De Grisogono dinner party, she wore a gothic-glamourous plunging black gown, ( I have no idea who it is made by, I can't find out anywhere 🙁 )
Cheryl, always being one to keep private about her life, for sure surprised the world when she posted a picture of two new rings on her wedding finger on Instagram with a statement saying 'I usually do not discuss my personal life but to stop the speculation I want to share my happy news… Jean-Bernard and I married on 7/7/14. We are very happy and excited to move forward with our lives together..'. Well, I'm not surprised the woman is happy! Firstly, Jean- Bernard is VERY easy on the eye and secondly, that ring is gorgeous!
Although, she was highly criticized by the media and close friends because the couple have only been together for three months. Former band mate and best friend, Nicola Roberts, was one of those people to pass judgement but had a change of heart and posted the following to the Versinis on Twitter: "You can be in a relationship for two years and feel nothing; you can be in a relationship for two months and feel everything. Time is not a measure of quality; of infatuation, or of love."
Cheryl and Jean Bernard tied the knot in the elegant Cottons House resort in Mustique with just four people present, including her mother Joan and her PA Lily England.
The couple held a party in London to celebrate their marriage with friends and family a week later and the pair both wore black, unusual for a wedding party but damn, they look hot! Cheryl beamed from ear to ear while wearing a silk and velvet strapless gown with sheer pleated French chiffon skirt by British designers Ralph & Russo. They requested that all invited guests wore black and white! Among the guests were Marvin and Rochelle Humes and Kimberley Walsh and her partner Justin Scott.
It must be love because Cheryl has dropped the 'Cole' and changed her surname to that of her new hubby and have vowed she will get rid of or cover up her 'Mrs C' tattoo on her neck! Also, Cheryl has been reported to be learning French to be able to speak Jean Bernard's native language, the language of love (sighhhhhhhhhhhhh what I'd do to be in love…)
On June 23rd, Cheryl announced she has a perfume 'coming soon' called Storm Flower. Check out the video for it! (I will be buying this perfume, I do expect to smell exactly like Cheryl so you have one job team Cheryl.. Impress me!)
Also in June, Cheryl appeared in Elle Magazine and my god did she look incredible! This has been one of my favourite covers of Elle Magazine in a very long time!
With X Factor starting in just two weeks, Cheryl is going to be on our screens EVERY WEEK again and as you can tell I'm quite excited! During the week, she received word that she has the Girls category this year (her favourite.. Mmm, wonder if Simon had anything to do with that!) From the auditions alone, she has be looking fabulous and beating Mel B every time in the fashion stakes! I'm excited to see the fashion wars every week.
She's 'only going up' (get it? Lyric promotion right there!), 2014 will more than likely be her year! And she deserves it!
So yeah.. I'm in Crazy Stupid Love with Cheryl Fernandez-Versini.
Fatal error
: Allowed memory size of 134217728 bytes exhausted (tried to allocate 69632 bytes) in
/var/www/vhosts/sincerelysarahjane.com/httpdocs/wp-includes/class-wpdb.php
on line
2154
Fatal error
: Allowed memory size of 134217728 bytes exhausted (tried to allocate 32768 bytes) in
/var/www/vhosts/sincerelysarahjane.com/httpdocs/wp-content/plugins/woocommerce/includes/class-wc-log-levels.php
on line
1