2014 MTV VMA's – All you need to know right here!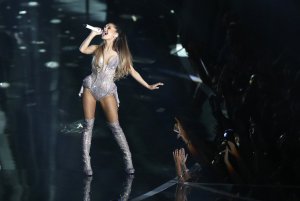 On Sunday 24th of August, MTV's annual Video Music Awards took place in The Forum in California. The VMAs always has talking points for days and sometimes weeks after it (who can forget Miley Cyrus' performance last year?!) and this year is no different. Well, on a much tamer scale.
Performances
Opening this year's show was a medley, kicked off by Ariana Grande belting out her new song 'Break Free' in a silver leotard, similar to the Glittering Gold one Beyonce wore during her I Am… Sasha Fierce tour in 2009.
Nicki Minaj took the stage next with a jungle themed performance of her new single 'Anaconda' but had no snakes (unlike Britney back in 2001, but it was later said they had to scrap the snake idea due to an incident that happened in rehearsals with one of Nicki's dancers and the snake!!) Nicki and her dancers did however showed Miley Cyrus how to really twerk!!
To finish the opening medley, Jessie J joined Ariana Grande and Nicki Minaj onstage for the first ever performance of their joint single 'Bang Bang'. While Jessie J and Ariana were smashing their incredible vocals, poor Nicki had a wardrobe malfunction!! The rapper walked on to stage while holding her black dress closed over her chest. and boy was she holding on for dear life! Nicki later said in a backstage interview what happened, which was that she ran out of time backstage when changing and failed to get the dress zipped up.
Taylor Swift performed her new single 'Shake It Off' while wearing a sparkling silver bralet and shorts. Viewers got excited when she was standing on top of a massive "1989" sign and appeared as if she was about to jump off it and into her crowd of dancers awaiting arms, but she squirmed away and said "I don't care if it's the VMAs, I'm not jumping off there," she said, disappearing while going down stairs saying  "All kinds of people getting bit by snakes, it's dangerous!", in reference to Nicki Minaj's dancer!
Sam Smith made his American awards show debut with a flawless performance of his breakout ballad, 'Stay With Me' simply singing into a microphone in the spotlight and just accompanied by a piano.
Usher launched his new single 'She Came To Give It To You' which features Nicki Minaj. When Nicki joined Usher on stage, he repeatedly touched her bum with his shoulder while playing the electric guitar and then spanked her before she left the stage.
Next up was my boys, 5 Seconds of Summer! They sang their pop-rock ballad 'Amnesia'. They were literally incredible and have received nothing but compliments about their performance. Proud of you guys <3
Iggy Azalea and Rita Ora showed their fierce sides when they teamed up to perform 'Black Widow'. They made sure the viewers knew that spiders were the main theme of the performance with a lit-up spider web behind them and the  dancers dressed in spider inspired outfits. Rita went one step further and had diamond shaped siders on her nails (I'M SHAKING AT EVEN THE THOUGHT – I HATE SPIDERS (but LOVE this song)!
Outside the venue, Maroon 5 performed their new hit single 'Maps' to a large crowd of fans!
One of the main talking points of the night was Miley Cyrus' guest, homeless man Jesse Helt. Miley got Jesse to go on stage and accept her award for Video Of The Year on her behalf and spoke about homeless youths and to highlight the issue. Miley looked on while crying. This shows that Miley should get more credit where credit is due. She's not a bad person at all. She could of went up there and gave a meaningless few thanks to fans and her music label but she selflessly used that time to highlight an issue prominent in the USA.
And last, but certainly not least, was the performance of the night by the one and only QUEEN BEYONCE! While wearing a bejeweled bodysuit, Bey literally performed a snippet of her Mrs. Carter Tour! She sang 12 songs mashed together from her self titled album, Beyonce, which included Drunk In Love, Partition and the remix version of Flawless. After her very sexual performances, hubby Jay-Z and daughter Blue Ivy stepped up onto the stage with the Michael Jackson Video Vanguard Award to present it to Beyonce. Bring Beyonce to tears, Blue Ivy cheered 'Go Mommy' and the Jay presented her the award stating that she is 'the greatest living entertainer'. Putting a stop to all those spilt and divorce rumours, they put on a united family front for the world to see!
My Best Dressed Females
Number 1 best dressed female is Beyonce! No surprises there! She looked incredible gracing the red carpet in a black lace fishtail dress. Because it's Queen Bey, her second outfit also gets a mention. After her show stopping performance, she changed into a dark pink/burgundy dress by Lebanese designer, Zuhair Murad.
My number 2 best dressed girl goes to my idol, Demi Lovato! WOW. She simply looks perfect. Demi has definitely proven she's body confident at last in her sexy, floor length red gown. She donned a new shorter hair do with a simple smokey eye and strong, sexy red lipstick.
My Number 3 goes to the Kardashian trio. 18 year old Kendall and 16 year old Kylie both wore black. Model Kendall chose a jumpsuit with a sheer mesh top while Kylie decided to wear a silk dress with a very-high-thigh slit. Older sister (yet the smallest sister!) wore no other than her favourite, Balmain, with her cleavage on clear display!
My Worst Dressed Females
Amber Rose. WHAT WERE YOU THINKING?! I can't even begin to explain it. How was she let leave her house? The 'dress' is by Rose McGowen, just incase anyone wants to get themselves a replica (doubt it!)
Katy Perry, girl, you can do so much better, in both men and in fashion. Ditch Riff Raff and ditch the demin. Britney and Justin did this look over 13 years ago, it didn't work then and it doesn't work now.
Taylor Swift, it breaks my heart to put you in the worst dressed section but for a girl who 90% of the time dresses 'Oh so right' at award shows, you got it 'Oh so wrong' this time! This outfit just does nothing for you. That's it. I can not find anymore words to say about it. Just go back to your long sparkly gowns that everyone adores!
My Best Dressed Males
Nick Jonas is my number 1 best dressed male. Just look at him. He is looking FINE! Nick looked incredibly dapper in a navy check print jacket and waist coat by Vivienne Westwood.
My number two best dressed male is Sam Smith, who rocked the red carpet in a stunning three piece black suit.
My number 3 best dressed are 5 Seconds of Summer. The foursome donned their true punk rock style. They looked hot. So hot. Incredibly hot. Have I mentioned they look hot? Because the look SO HOT!! I think you get my idea. Also, Ashton's blazer costs a whopping $1250. WHAT? This is the band that get their stylists to put holes in their t-shirts to make them look cooler. I hope they took that jacket and put it somewhere safe away from scissors.
Winners List
Video Of The Year – Miley Cyrus – 'Wrecking Ball'
Best Male Video – Ed Sheeran – 'Sing' (ft. Pharrell Williams)
Best Female Video – Katy Perry – 'Dark Horse' (ft. Juicy J)
Artist To Watch – Fifth Harmony – 'Miss Movin' On'
Best Pop Video – Ariana Grande – 'Problem' (ft. Iggy Azalea)
Best Rock Video – Lorde – 'Royals'
Best Hip-Hop Video – Drake – 'Hold On, We're Going Home' (ft. Majid Jordan)
MTV Clubland Award – Zedd – 'Stay the Night' (ft. Hayley Williams)
Best Collaboration – Beyonce – 'Drunk in Love' (ft. Jay-Z)
Best Choreography – Sia – 'Chandelier' (Choreographer: Ryan Heffington)
Best Cinematography – Beyonce – 'Pretty Hurts' (Directors of Photography: Darren Lew and Jackson Hurt)
Best Video With A Social Message – Beyonce – 'Pretty Hurts'
Best Lyric Video – 5 Seconds of Summer – 'Don't Stop'
Best Editing – Eminem – 'Rap God' (Editor: Ken Mowe)
Best Direction – DJ Snake and Lil Jon – 'Turn Down for What' (Directors:DANIELS)
Best Art Direction – Arcade Fire – 'Reflektor' (Art Director: Anastasia Masaro)
Best Visual Effects – OK Go – 'The Writing's on the Wall' (Visual Effects: 1stAveMachine)
Michael Jackson Video Vanguard Award – Beyonce
And that's it, all the crazy antics are over for another year! Well.. maybe just until the EMAs in November!
Fatal error
: Allowed memory size of 134217728 bytes exhausted (tried to allocate 20480 bytes) in
/var/www/vhosts/sincerelysarahjane.com/httpdocs/wp-includes/class-wpdb.php
on line
2153
Fatal error
: Allowed memory size of 134217728 bytes exhausted (tried to allocate 20480 bytes) in
/var/www/vhosts/sincerelysarahjane.com/httpdocs/wp-includes/class-wp-fatal-error-handler.php
on line
74