July/August Favourites 2015!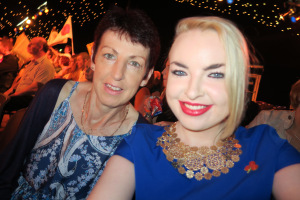 Sooo… July and August have been pretty busy months for me! Where do I begin? Firstly, in case you didn't know, I have been working for Celia Holman Lee since April or May but I worked a lot more for her in July and August. I even worked with her at the Rose of Tralee Fashion Show. Working with her has been a ultimate dream, I still can't believe Richard got me that opportunity. I am sad it has come to an end for now. She was a dream to work with, we laughed a lot and I have learnt a lot about Fashion and the industry and I loved every minute of it.
Back in July, I got to meet Youtuber Alfie Deyes, better known as Pointless Blog, and he liked and commented on my vlog, making my channel views go crazy!! I have suffered a lot of migraines and anxiety attacks the last two months which also due to hectic lifestyle and personal reasons (which states why I haven't been blogging a lot lately!) I have been redecorating my room and it is finally finished! In early August, I met another Youtuber, Marcus Butler! I also met Jake Quickenden. My acne has almost cleared, one more month and I am finished! I went to the Dome in Tralee for the Rose of Tralee 2015 and it was great craic altogether! I got to hang out and party with the beautiful ladies from the Laois Rose Centre, whom have got a special place in my heart. I adore those ladies, they are such incredible women to look up to.
Other than all that, I have been packing for Spain ( I move in one week, ONE WEEK! I am not prepared, in my head, I feel like I am just going on holiday!) So I have decided to combine my July and August favourites! I'll stop rambling now!
Books
In July, I read To Kill A Mockingbird for the first time (I know such a crime!)  If you have not read it, GO READ IT NOW! It is a very good book, quite different to my typical book. In short, the book is about Scout Finch, her older brother, Jem , and their friend Dill. All three spend their summers spying on their reclusive and mysterious neighbour, Boo Radley. Scout and Jem's dad, Atticus is a respected lawyer, but when he defends a black man, Tom Robinson against made up rape charges, the trial exposes the children to evils of racism and stereotyping.
Then in August, in like one week, I read The Maze Runner series. My goodness gracious, I couldn't put the books down! Ashamedly, I did see The Maze Runner before I read the book. But the book is 100% much better than the movie, and I loved the movie! The books had my heart racing and I couldn't sleep as I wanted to know what happened next! They say on the back that they are adrenaline filled and they certainly are. So here is what the Maze Runner is about: Thomas arrives in a glade at the center of a giant labyrinth. Like the other youths dumped there before him, he has no memory of his previous life, only his name. But something is different after Teresa arrives (who is the only girl sent to the glade). They soon realise they need to get out of the Glade and the maze. Thomas quickly becomes part of the group, but he knows he is different from the rest and  certain members of the Glade recognize this too, once they've been bitten by the grievers in the maze. Thomas shows the gladers a unique perspective that allows him a promotion to Runner very quickly. Thomas tries to convince his fellow gladers that he knows a way out. It is gripping and intense. If you loved The Hunger Games, this is a must read.
Outfit
Working with Celia means you get to dress up some days for work.
My first favourite outfit is this blue and gold dress from Born Boutique. I think it was around €69. I got so many compliments when I wore it. It is so flattering. These dresses are great, they cut at the middle of your waist and can give the illusion of being slimmer. They also hide your stomach!
This other outfit I love is a blue lace crop top and a fabulous black Tulle skirt from Swamp. If you know me, I LOVE TULLE SKIRTS and more than likely buy one every time I see one in a shop. Tulle skirts are in for this A/W so I'd advise you to go by one! They are great.
Music
Fifth Harmony,  if you don't know these girls by now, where in the name of god have you been living? The girl band released their debut album earlier in 2015 and there is a few gems on it including this song, Brave Honest Beautiful, which happens to be one of my favourite songs right now. I can't stop playing it. It's on repeat, all the time. No joke! I am pretty sure it will be the same for you!
[youtube https://www.youtube.com/watch?v=L_akpbZFU_4&w=560&h=315]
So 5 Seconds of Summer have been working hard on their second album (SECOND ALBUM, THEY HAVE COME SO FAR!) and their leading single from the album 'Feels Good, Sounds Good' is 'She's Kinda Hot'. I see the trend in leading singles, first 'She Looks So Perfect' now 'She's Kinda Hot'! Maybe it's just a biased opinion but I feel this song is step up for 5SOS, as in they could fully be classed as punk rock rather that pop punk! I feel like this is the game changer for them. It's sounds like old school My Chemical Romance and I FREAKING LOVE IT!
[youtube https://www.youtube.com/watch?v=WFz1gCZSmdE&w=560&h=315]
And what would my favourites be without added these boys, One Direction. Drag Me Down, which is their first single without Zayn (it still hurts!) and it is pretty damn good. Just like 5SOS, One Direction's sound has matured, which makes me a happy girl! Of course, the video is great! Also, I've always appreciated Harry's vocals but jeeeez the feels on his vocal in Drag Me Down kill me everytime!!
[youtube https://www.youtube.com/watch?v=Jwgf3wmiA04&w=560&h=315]
Food
So I think I might have a problem with Blueberries. I have become addicted and when I see something that says 'Contains Blueberries' or 'Blueberry whatever', I most likely will buy it just because it has blueberries!! My latest love is Blueberry bars.
Make Up 
So I wrote a blog about Acne and my story with it recently and included most of the products I use. Recently, I have been using two other products also, and I love them! Coconut Oil is all you have been hearing in terms of beauty throughout 2015 and I can see why. I use it as a makeup remover and within one minute, all my make up is off and my face feels great. You take a little bit of the coconut and rub it between your hands until it turns to oil and you message it all over your face until you think all your makeup is removed. I usually do this in sections, so I would repeat this step 4 or 5 times. Then you get a wet Muslin cloth and wipe away the makeup/oil and now you have a fresh, clean face! Also, as I mentioned in my acne blog, I have some scars on my face. I was told to use Bio-Oil to try reduce the scars and I have to say, it is working. It is a slow process and I do have to put it on twice daily. If I miss one day, you can see the difference.
Youtuber
If you didn't know, I have been Vlogging and making YouTube videos! I am loving making videos and I am super excited to make loads more. Check out my latest video. If you want, like the video and subscribe to me, PRETTY PLEASE!
[youtube https://www.youtube.com/watch?v=zu4x3FuXuY0&w=560&h=315]
Home Decor 
You might know, I am redecorating my room, well I am actually finished now! So when I saw this Love Sign, I had to have it. It is so pretty and girly. It is from Pennys (Primark) and I think it was €5 or €7. I also got my hands on these lipstick holders (FINALLY). I got them on Esty.com and they were €5 I think! These are great, I can see what lipsticks I have and they look so organised!
That's it for my July/August Favourites, I'll see you in a month for September faves!
xoxo
Fatal error
: Allowed memory size of 134217728 bytes exhausted (tried to allocate 20480 bytes) in
/var/www/vhosts/sincerelysarahjane.com/httpdocs/wp-includes/class-wpdb.php
on line
2153
Fatal error
: Allowed memory size of 134217728 bytes exhausted (tried to allocate 32768 bytes) in
/var/www/vhosts/sincerelysarahjane.com/httpdocs/wp-content/plugins/woocommerce/includes/class-wc-log-levels.php
on line
1