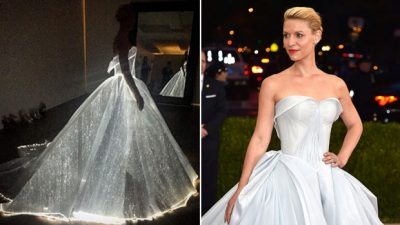 On May 2nd, the annual Met Gala took place in the city which is the home of fashion, New York City.
The Met Gala, previously known as the Costume Institute Gala , is an annual fundraising gala for the benefit of the Metropolitan Museum of Art's Costume Institute. But it is really known as the biggest fashion event of the year. The event has been held at the Met since 1971 and is considered to be the 'fashion industry's premier annual red carpet event' with all the big name celebrities attending the event yearly to kick off the fashion season with a bang!
Vogue editor-in-chief, Anna Wintour is the chair of the event and has been for over 19 years. Each year the event has a theme, and 2016 was no different. This year's theme was 'Manus x machina: fashion in an age of technology'. The guest list was kept to a 'minimum' of 650-700 a-list celebs and tickets were a pricey $25,000 to increase exclusivity. The creators of the Met Gala are getting stricter with their rules, as this year, no phones were allowed inside the event. Sorry Kim, looks like no more selfies at the ball!
Again, Anna Wintour don't worry about not getting around to invite me this year, I wouldn't of been able to make it due to finishing assignments. I know you have me on the list next year and I am already in talks with Moschino about my design.
Let's get down to business and talk fashion!
Best dressed ladies:
Claire Danes – Claire stole the show when she turned up in a beautiful Zac Posen design as a real life Cinderella, with not one but two men on her arm I might add. I gushed as soon as I saw her dress on Twitter and my little heart fluttered when I saw it light up. Her dress is what dreams are made of. Every girl dreams of being a princess.
Blake Lively – She may be pregnant but that didn't stop Blake looking absolutely flawless last night as she arrived in a blush pink Burberry dress to the Gala.
Kylie Jenner & Kendall Jenner – As soon as I saw the two sisters on the red carpet, I knew exactly who they were wearing. The Kardashian/Jenner's reliable designer – Balmain! The two looked incredible! Kylie please leave your hair like this, it suits you so much! Kylie later showed that us ladies will go through anything to look good when she showed her snapchat followers the damage her dress and shoes caused.
Nicole Kidman – Nicole had every jaw dropping as she stunned in her beautiful Alexander McQueen dress with a cape.
Jourdan Dunn – One of my newly grey haired sisters wowed at the Met last night as Jourdan also rocked Balmain (I think I need to invest in some Balmain!!)
Beyonce – What would a best dressed list be without the queen that is Beyonce?! Rocking up solo, Bey looked fierce in her Latex Givenchy dress.
Best dressed men:
Nick Jonas – Only one man stood out for me and that was the very hot Nick Jonas. Although it was kind of a safe option, he looked ever so handsome in this gorgeous tuxedo from Topman.
Best dressed couple:
Kim & Kanye – Once again, it didn't surprise me when I heard they were wearing Balmain. Kim steals the attention this time Kayne, even those blue contacts couldn't distract me from how good she looks!
Gigi & Zayn – Without a doubt, they are THE couple of the year and were certainly sticking to the theme with their matching outfits. Gigi stunned in Tommy Hilfiger while Zayn looked gorgeous in Versace. Can they do no wrong?
Many people and critics seem to forget that the Met Gala ain't any normal event. It's the one night where designers and celebrities get to be creative and explore new tastes with fashion and personally, it is my favourite event in the fashion calendar. Impatiently waiting for next year already.
Chat later!
Sarah Jane xx