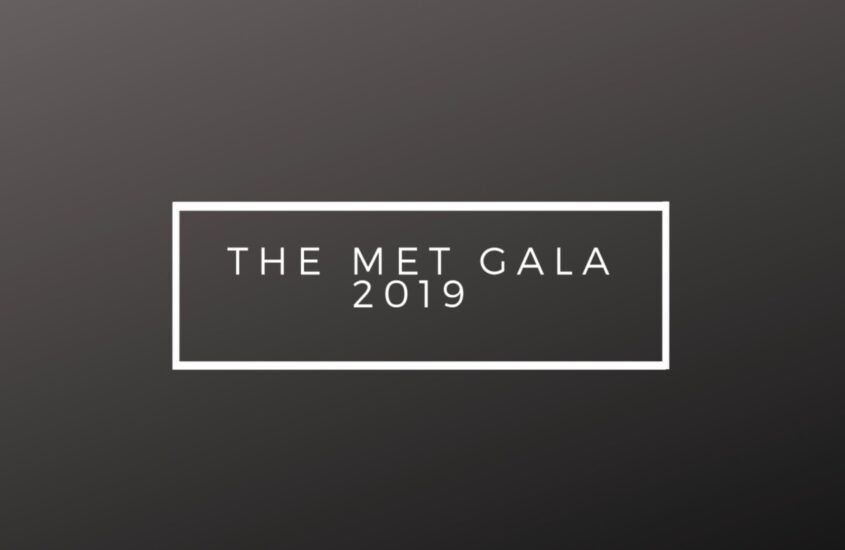 On May 6th, the most anticipated night of the year for the fashion industry took place in the city which is the home of fashion, New York City. Yes, I am talking about the Met Gala.
The Met Gala, previously known as the Costume Institute Gala, is an annual fundraising gala for the benefit of the Metropolitan Museum of Art's Costume Institute. But it is really known as the biggest fashion event of the year. The event has been held at the Met since 1971 and is considered to be the 'fashion industry's premier annual red carpet event' with all the big name celebrities attending the event yearly to kick off the fashion season with a bang!
Vogue editor-in-chief, Anna Wintour is the chair of the event and has been for over 19 years. This year, Wintour has two co-hosts, Lady Gaga and Harry Styles and very appropriate ones at that when you see the theme. This year's theme was completely different from the Heavenly Bodies theme last year – it's Camp: Notes on Fashion.
We all know many of these celebs having been rocking camp fashion on many red carpets throughout the years but now, it's strict dress code and sure the world was only excited to see what the celebrities and designers came up with.
Best Dressed Women
Lady Gaga
Well now, there was one stand out of the night at that has to go to co-host Lady Gaga. We all knew she was going to nail the theme but we were not worthy of the FOUR looks she gave us. Her make-up was sensational too. She wore designer (and best friend) Brandon Maxwell.
Celine Dion
Celine wore an absolutely stunning gold infused Oscar de le Renta frock and my god, she looked sensational. While Celine's metallic fringed gown had everyone's mouth's on the floor, it was indeed her masterpiece of a headpiece that stole the show!!
Kendall and Kylie Jenner
The youngest of the Kardashian/Jenner clan came to save their family when it came to the fashion theme this year as they we're the only ones who perfected Camp! They both wore Versace and just look at them – feathers & glamour, divine!!!
Kacey Musgraves
Kacey lived out everyone young girl's dream of being Barbie for the evening! She wore a hot pink Moschino gown, which was styled with a blow dryer purse, sunglasses, and a hot pink convertible – what dreams are made of! She completed the Look with a feather boa and a beauty transformation as she donned a platinum hairstyle, a big difference from her natural brunette to suit her character's signature shade of blonde.
Cardi B
We all knew the next person to nail this theme after Gaga was going to be Cardi B and that she did. Talk about extra af with that train! She wore Thom Browne deep red dress which featured puffy feather shoulders and hugged the her curves perfectly. Cardi paired the gown with lace gloves and a headpiece embellished with red stones – simply exquisite!
Anna Wintour
Anna Wintour was first to the event, with being the woman in charge and she certainly set the tone for the evening. Iconically, she walked the carpet without her signature sunglasses for the first time in years! As she has done for many years, she wore Channel, particularly poignant this year as she was paying homage to late friend and designer Karl Lagerfield.
Best Dressed Men
Harry Styles
Just like Gaga, we all knew Styles would come to slay and that he did. He looked incredibly dapper and oozed Camp! He is one of the Camp Gucci faces so it was only obvious he'd wear Gucci on the carpet! All hail the Prince Camp!
Billy Porter
We ALL knew Billy was going to bring it, especially after this year's Oscars outfit. He came to serve. Dressed in a glittering gold bodysuit & robe from The Blonds, he was carried onto the red carpet by 6 extremely handsome men who were all shirtless and donned golden accessories to match Porter. Then, when we thought it couldn't get much better, as he graced the carpet, he spread his gold wings. AMAZING!!!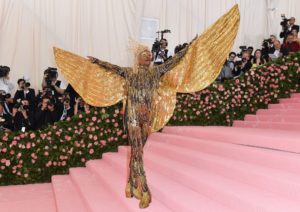 Image belongs to Vanity Fair
RuPaul
Shockingly, this was the first year that Drag Race mother, RuPaul was invited to the Met Gala. And even more surprisingly, he didn't show up in Drag. However, sticking to the theme perfectly, Mother Ru wore a hot pink, with hints of neon blue and neon orange sequin with zebra stripes suit but doesn't leave it there! He added an ostrich fringe runup on one sleeve, taking it to the next level. Shantay, you slay Mamma Ru!!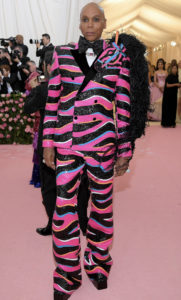 Image belongs to NEILSON BARNARD/GETTY
Darren Criss
Darren Criss is never one to shy away from the Met Gala theme and this year was no different. He knows his fashion and knows it well! He wore Balmain on the night. He didn't shy away from wearing some makeup with he look either, rocking some serious eye makeup and lipstick, as well as blue nail varnish!
Michael B Jordan
Now, this one isn't particularly out there Camp but he looked far too handsome not to have him on the list. Jordan teamed up with Stuart Vevers, Creative Director of Coach in designing and choosing which outfit he was going to wear and well, I think he done a great job. Looking fine 😉
Nick Jonas
It's not a Best Dressed List unless Nick Jonas appears on it. He looked dashingly handsome in a Dior white suit with a bejeweled shirt and tie. He went for extra sparkle in silver metallic Louboutins and lots of jewellery!
Joe Jonas
And just like his brother, Joe did not disappoint either!! He wore a very extravagant and colourful turtleneck that somewhat matches his new wifeys ensemble, well played Joe!
Best Dressed Couple
Cole Sprouse and Lily Reinhert
My, my, my! How far this beautiful have come since their first Met Gala together! Without a doubt, they were the Best Dressed Couple that actually stuck to the theme (no shade Kayne!)
They looked divine, like works of art. Cole wore a sleeveless suit covered in flowers while Lily looked like a modern-day Marie Antoinette with pink makeup and a flowing blue dress and cape!
That's it. The most exciting night in fashion is over for another year!
So, who was your favourite of the night?
Sincerely,
Sarah Jane xo
Fatal error
: Allowed memory size of 134217728 bytes exhausted (tried to allocate 20480 bytes) in
/var/www/vhosts/sincerelysarahjane.com/httpdocs/wp-includes/class-wpdb.php
on line
2153
Fatal error
: Allowed memory size of 134217728 bytes exhausted (tried to allocate 32768 bytes) in
/var/www/vhosts/sincerelysarahjane.com/httpdocs/wp-content/plugins/woocommerce/includes/class-wc-log-levels.php
on line
1