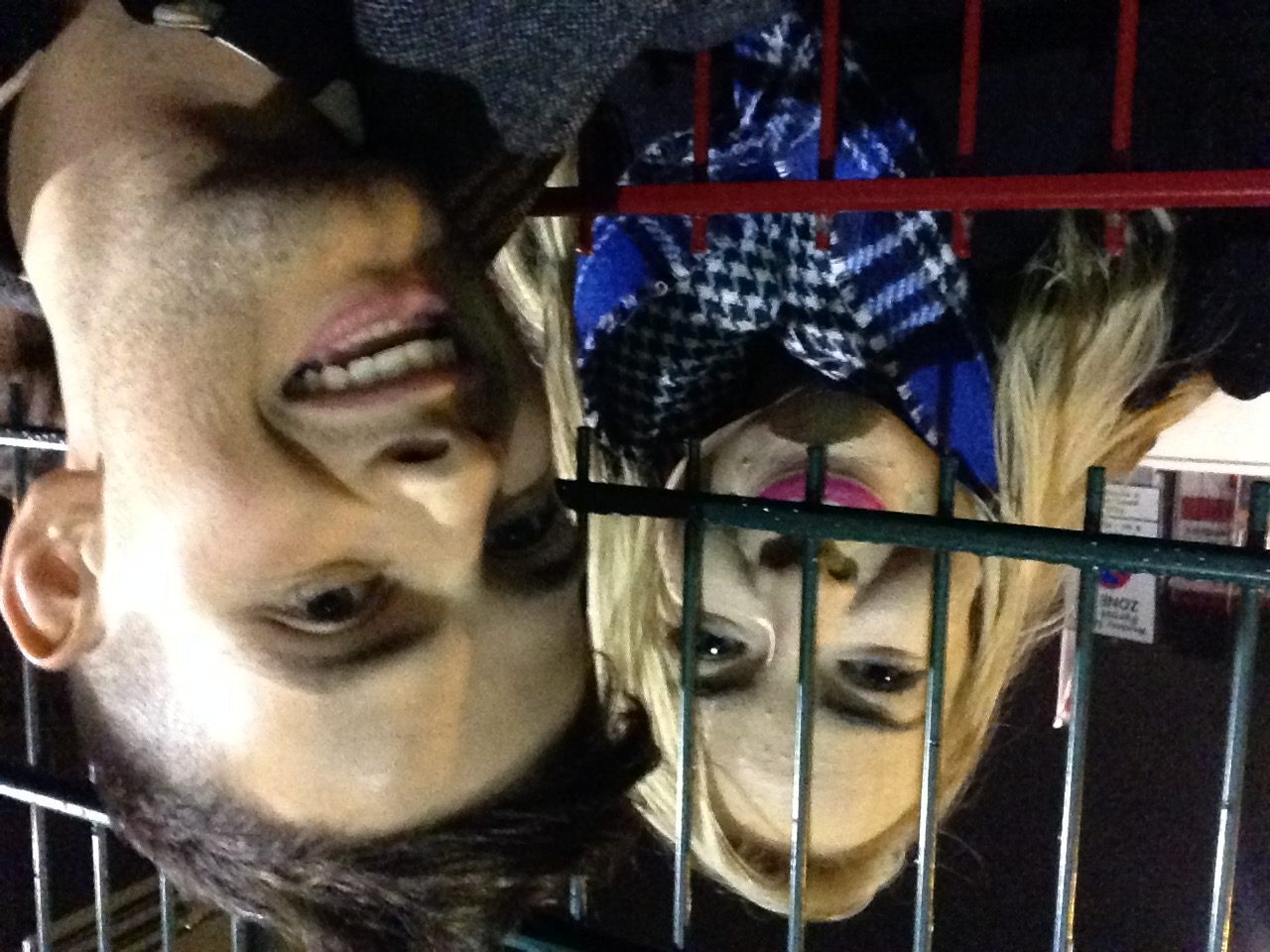 For my 21st birthday, my parents surprised me with a weekend away at Wembley in London, the home of Simon Cowell's baby, The X Factor. Everyone knows how much of an X Factor addict I am and have been since 2005, from that embarrassing Shayne Ward crush, to that little obsession with Eoghan Quigg and  the obvious, the rollercoaster ride my boys One Direction caused me back in 2010, I've been through it all. So for my birthday, my Mum had applied for tickets to the actual shows but that is a long complicated story and basically I didn't see the show. But who cares, I still had one awesome weekend!
Early on Friday morning (when I say early, I mean really early. It was 3:30 am when I left my house and my flight was at 7am!!), I flew from Dublin to London all excited for what the weekend had in store for me.
We arrived at Fountain Studios around 12pm (after my very blonde moment of not noticing where the studios were, even though I had passed them twice and there is a BIG sign saying fountain studios on the side off the building – insert monkey covering eyes emoji here!!) and this is when all the fun started! Surprisingly, there was only 7 of us outside the studios, I had imagine the place would be swarmed with crying 14 year olds. Louis Tomlinson and Niall Horan seem to be missing the studios as they have been down there nearly every Friday for the past few weeks and that day it was no different. I saw Niall drive into the private entrance around 3pm and Louis followed soon after but I didn't get to actually see them.
X Factor presenter since 2007, Dermot O'Leary turned up on his green motorbike full of conversation and excited about his interview later that night on The Late Late Show in Ireland. He was delighted I was from Ireland but said I was crazy for flying over just to meet everyone. Dermot, I flew over just to meet you darling. 😛
Time at Fountain Studios seems to go by so slowly. From 2pm until 6pm felt like 12 hours. I do not know how some girls do this every day, week or every year! I was wrecked after just 10 hours of standing there. But the best thing about the fangirl experience is the friends you make. When I arrived at the studios, I spoke with the few girls who were already there and we bonded very quickly over Stereo Kicks. Later that night, once we had found each other on Twitter, we discovered we had mutual friends in the fangirl world and it was a surprise we didn't know each other before! Now it's like we've known each other for years. Anyway, at around 6:15pm, the baby of Stereo Kicks, Charlie, left the studios first as he has a curfew! I did feel a bit strange asking a 14 year old for a selfie but he is so cute. By the way, since when do 14 year olds look SO much older. He could easily  pass for 17, although that could be the cougar in me trying to make myself feel better about my encounter with him.
3 out of the 4 members of Only The Young came out next. Since their first audition, I've had a little soft spot for Charlie and kind of only paid him attention. BUT when Mikey came out to meet everyone, he took my breathe away. Literally. I couldn't formulate a sentence when he spoke to me. He was incredibly nice to me. He told us all not to get too cold, he could see me shivering (it was 2 degrees, I was expecting snow at any point!). I had told him I'd been there since 12 and I flew from Ireland and he loved that. He started taking the piss out of my accent and thanked me for making the effort to fly over to see them and support them. Genuine sweetheart <3 Parisa and Betsy were also there, but they didn't want to take selfies with me because they had just got there tan done for the show on Saturday and said they looked horrible – if they think they looked horrible, my god I'd hate to know what they thought of me. The looked so flawlessly beautiful, especially Betsy. I eventually convinced Parisa to take a picture with me but she covers half her face! Betsy spoke to me for a while though to make up for no picture and she said she loved my lipstick. I got shy then because she has an incredible beauty and fashion blog so I was thrilled with her comment.
Andrea was next to come out and he is such an adorable person. He is exactly how you'd expect him to be. Shy but so humble. He did struggle to understand my accent though..
Tom, Reece and Casey from Stereo Kicks were next to come out but were quickly called back by the security the other side of the studios. I was so upset!
I continued to wait outside the studios after all the contestants had left because Niall and Louis had yet to leave. The girls who I became friends with told me that they would stop for photos, as they have done the past few weeks. Once again, security inside the studios wouldn't allow the boys to stop for photos but Louis stopped his car beside us to explain that the 'security are being mean and wouldn't let us stop! Sorry guys!' If I had been thinking, I could of easily turned around and posed for a selfie as I was standing next to the car. But no, Sarah Jane  wasn't thinking, like always in these situations!!!!
So at 10:30pm, my mum and I wandered to McDonald's to try warm up and day one at X Factor was over.
I decided not to go to the studios until after the show on Saturday night, as I knew there was no way I would meet anyone before the show. As soon as Stereo Kicks finished performing, I ran down to the studios and even got to hear Andrea live as the doors were open (his voice is breathtaking!).
Barclay from Stereo Kicks was the first to come out and  I was the only one there! He was quite shy and very humble. He is a beautiful human being and my mum is still surprised as to how I managed to have a conversation with him without melting. His aftershave was one of the nicest things I've ever smelt and I would not mind smelling that every day.
Betsy remembered me and stopped for a selfie this time and complemented my make-up and clothes once again. She is incredibly beautiful, when she handed back my phone and I looked at the selfies, I questioned why I even bothered because I look horrible beside someone so beautiful and she gave out to me for saying something so stupid. I have to say Only The Young are so good with their fans, they actually take interest in the fans and communicate with them at every possible chance. Other bands should be taking notes from OTY!
Charlie was next out (he came out earlier but went to McDonalds with his Dad!) and he ran over to me! He was full of conversation, clearly still excited from the show and even flirted with me. He was explaining to us how hard it is to get tickets for his family to come to the show. He then asked me where I was from because my accent 'wasn't English' and once again when I said Ireland, he said 'Woaaah that's dedication' and asked me how long it took to get there. My mum told him it was a birthday present and he asked when my birthday was and I told him and he reminded me that it was the same day as Tom's from Stereo Kicks. I asked him to follow me on Twitter and while he was doing that he continued to ask me questions but the best reaction came when he asked how old I was. When I said 21, he stopped looking at his phone and looked at me in shock but still continued to casually flirt with me. He took my phone and took a good few selfies with me and below are my favourite two! Gosh. WHY MUST HE BE 17??? Dear god, why do you do this to me!! 🙁
Reece popped out next. He is such a cutie. I told him I loved his new hair do but asked what they had done to Chris's hair (they shaved it all off!!!) and he told me the producers or whoever said that 'they needed someone in the band with that hairstyle and Chris was the one that stood up and took one for the team'. Reece told me to tell Chris that I loved it because he was really upset and insecure about it. For a 16 year old, Reece was such a gentleman and so down to earth. He went and got all the other members of Stereo Kicks for me <3
James. My interaction with him was very quick as they were being rushed by their minders/people. He is even more handsome in person and I don't know how it was possible. Just look at his face. It was like it was carved my angels. He has the voice of an angel too.
TOM MANN NEXT! Sorry I got a bit excited there. I have loved and followed this guy since early 2013 when I stumbled across him on youtube. I have been dying to meet him and I even messaged him on Friday (he follows me on Twitter 😉  )  explaining that I was so upset that I didn't get to meet him and he replied saying he was sorry and that he would try meet me on Saturday and HE DID!!! When he came over, all I could say was 'Tom, I'm Sarah Jane from Ireland' and he went 'Yeeeeeah I know you, I've been messaging you, finally we meet!' I wished him a Happy 21st Birthday and told him it was my birthday the same day and he wished me a happy birthday and asked how old I was and when I replied with 21, he was surprised and said 'that's crazy!'. He wanted to stay longer to chat but he was dragged away. Look at how beautiful he is and look how happy I am, my eyes are all sparkly from happiness.
Chris was the best out of everyone (apart from Tom, no one beats Tom!) . The only thing I could say was that I was Irish and sure Jaysus he was only delighted. He was so happy that he couldn't even take a proper selfie with me. Look at it. HE HAD ONE JOB! But bless him, he just wanted to talk to me. He kept thanking me for flying over and all the support. I told him I loved his hair and his face lit up and my heart melted. He was so happy, I just wanted to hug him. Everyone was getting jealous at how long every member of Stereo Kicks were spending with me but he told them to leave me alone because 'she's Irish guys!!'
Lauren was next. She is so small and gorgeous. I wasn't expecting her to be as nice as she was to be honest. She is so genuine and I just wanted to be best friends with her. I didn't get to talk to her that much either.
Jake Sims only took two selfies with fans that night. I was one of them. GO ME!! I didn't get to talk to him at all but I doubt the conversation would of been very long because he is so hot, I was probably drooling. I said he was a ride but I doubt he knew what that meant, unless he asked Chris 😛
Paul was the last out of the studios that night. He is such a nice guy and had a laugh with the fans that were there.
With that, day two at X Factor was over. I was happy. Very happy. Apart from the fact I didn't get to meet all 8 boooyys (not a spelling mistake, it's how they take the piss out of Louis!) from Stereo Kicks, Casey went out the front entrance 🙁
Tania, one of the girls I became friends with, told me where everyone rehearses on Mondays. So I got up early and headed there. The first to arrive was Stevi and as much as I think he shouldn't be in the competition, he is such a nice guy. He stood and spoke to everyone there for 10 minutes. My mum got a picture with him too and it's hilarious they way he posed.
Lauren was next to arrive. She informed us that she was the last one going to arrived at the studios that day ( I COULD OF CRIED, WHY THAT MONDAY DID STEREO KICKS AND ONLY THE YOUNG NOT GO?!!!) She spent a long time talking to us and taking pictures with us. I can't put into words how nice she is. She is so beautiful too. Her stomach is so flat and toned too. I look like a whale beside her.
The best thing about that Monday at the studios had to be the fact I got papped with Lauren. It appeared on the DailyMail online. Typical me on my phone :P.
I'm famous now lads!
I actually feel sorry for celebrities when paps are concerned. There was 5 paps there that day and they took about 500 photos of her in about 15 minutes. It was 10am in the morning, on a normal Monday at 10am, I'm still in bed not looking one bit photogenic.
After that, I headed back to the airport, ecstatic with the wonderful weekend I had meeting my favourite people. It was back to the assignment that was due at 10am the next day for me that evening while all the X Factor contestants got to go to The Hunger Games Movie Premiere. I can not wait till I can do that instead of assignments.
Fatal error
: Allowed memory size of 134217728 bytes exhausted (tried to allocate 20480 bytes) in
/var/www/vhosts/sincerelysarahjane.com/httpdocs/wp-includes/class-wp-object-cache.php
on line
240
Fatal error
: Allowed memory size of 134217728 bytes exhausted (tried to allocate 32768 bytes) in
/var/www/vhosts/sincerelysarahjane.com/httpdocs/wp-content/plugins/woocommerce/includes/class-wc-log-levels.php
on line
1