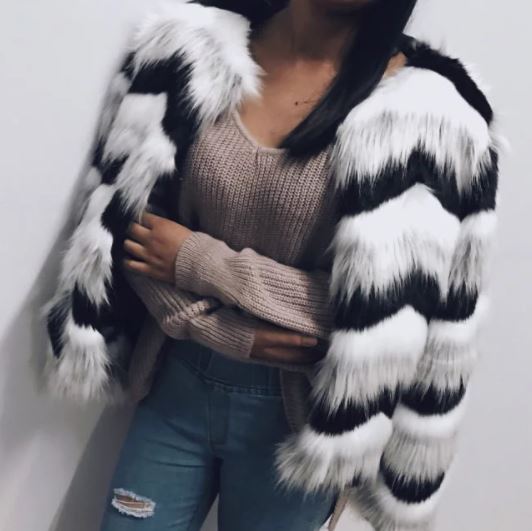 Firstly, I apologise for my absence in regards to my Fashion Friday Wish List posts the past two Fridays but I have good reason! On Friday 13th, I was suffering from anxiety and also had a wedding. On Friday 20th, I spent all morning in my doctors and all afternoon/evening in A&E because I have suspected Pleurisy! So, I am currently bed bound while coughing up my lungs for a few days but I have double the amount of fashion I have been lusting after the past two weeks! For a once off appearance (hopefully!), here is my Sunday Style Wish List.
My top finds over the past two weeks:
Anything monochrome automatically catches my eye. This would be a lovely Sunday afternoon outfit or perfect for the office/work environment. I would even maybe put a belt around the waist to add another dimension to it. This dress is from Warehouse on ASOS for £49 and is available here.
(Tip: ALWAYS buy in pounds on ASOS, it works out much cheaper in the end.)
Irish online shop Crave Closet has become a new love of mine recently. Crave Closet have some beautiful pieces at such great pieces. Shipping in Ireland is €5 which is also a bargain! This little navy number is perfect for the party season! Saucy but not too saucy! It is €38.99 and available here. Sizes are a bit tricky with Crave Closet – they are 6-8, 8-10, 10-12 and 12-14. In my opinion, stick to the size you are but go with the higher end. For example, I am a size 10, but I have curves so I went for the 10-12 rather than the 8-10.
I ordered a dress for my cousin's wedding from them and I can't wait to wear it! (Keep an eye on my Facebook & Instagram to see what I bought!)
Now that it is winter time again, it's time to bring back out the Over the Knee boots ladies!! These wine boots caught my eye. The heel isn't too high, they can be styled with a jumper dress or jeans and would be perfect day or night. I love the little string on the back which adds a bow detail. These boots are available from iClothing.com. They are available in size 3 up to 8 and come in 3 colours, including grey and black. They are €49.95 and available here.
I love boots (I think I may have mentioned this before oops!) but these pink boots are gorgeous. With the suede like finish and the leather strap detail, these boots look a lot more expensive than they are. What I love about them (apart from them being pink) is the bow detail at the back, it adds a bit of cuteness to them. I think these would be fabulous on a night out with jeans and the nice top as well as a daytime look too!
They are available from iClothing.com and are €39.95. They are available in sizes 3 up to 8 and you can get them here.
Another mustard yellow jumper
I know! I can't help it. They are just so lovely and so on trend right now! With the soft fabric and the relaxed fit, as well as the colour, what is there not to love about this jumper?? For €29.99, it's a steal (Okay, I know you can get something similar in Penneys but wouldn't it be nice to say you got this somewhere else than everyone else?!).
My advice would be to get a size bigger than normal so that it's a bit slouchy as that's very much the way to style them at the moment. This is available from iClothing.com here.
With winter comes a lot of Galas and Balls, as well as some Debs! I know I am always on the lookout for nice ball gowns as I attend a good few a year. I think this red one is divine for the Christmas season. I love the way one shoulder sits on the top of the shoulder and the other is like bardot, added just the right amount of sexiness needed. The thigh high slit is also great, gives you that space you need when you what to throw shapes on the dance floor and makes you feel like a latino! It is available from iClothing.com for €44.95 here.
After I was discharged from A&E on Friday, I went to the chemist in Laois Shopping Centre to get my medicine and while waiting, I spotted this GORGEOUS mustard yellow jumper in Born Clothing! I fell instantly in love with it (even while falling over with heart attack symptoms and a lung just about to come up!!) and it almost broke my heart to leave it behind but with only a €5 to my name right now, I had to bid my farewell to it. Although, Mam did mention she might get it for my birthday (which is in 12 days, just to remind you!!). The jumper has incredible detail on both sleeves which can make it very dressy if needed. It is €39.99 and is available from Born Clothing shops or you can get in online here.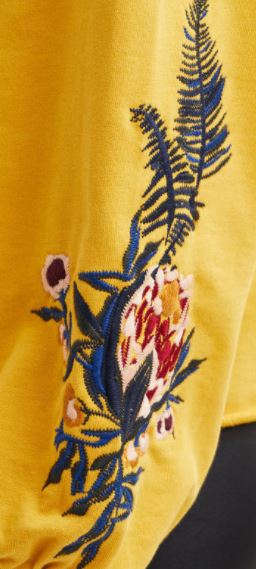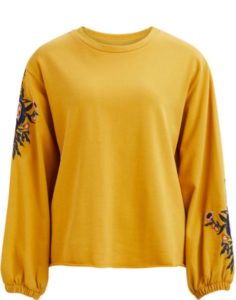 Paper waist pants are a big trend for AW17 and these burgundy trousers from River Island are fabulous! Not only are they suitable for work, but team this with a beautiful lace bralet and girl, you have a hell of a look for a night out! These are €47 and available here.
I'm still on the hunt for that replacement leather jacket and this looks very similar to the one I had. It's actual leather and not that faux leather. The pockets are real. It actually has that biker leather jacket vibes. Sounds perfect to me. It is a bit pricey as it is €160 but it's an investment piece right? It's available from River Island here.
More boots!!
I would say I'm sorry but I'm not. Boots were made for this time of year and there is just so many beautiful pairs. These gorgeous boots look like they are very comfortable because they are pointed toe and as I have mentioned before, these are the most comfortable shoes to wear. They have a gothic chic vibe. Perfect with a dress, a skirt, a shirt, jeans – everything! They are from River Island and are €87.00. They are available here.
You can't go too wrong with slogan tee's lately. I spotted this one in New Look recently and loved it. It would certainly be the type of slogan shirt I would wear. Suitable with pants and a skirt, day or night! It is on sale at the moment for €7 and you can get it here.
Waterfall coats are a must have this winter. This one from Crave Closet would be perfect as it would also add a pop of colour to your winter wardrobe. It is also a fraction of the price of the similar ones on the high streets. It is €38.99 and available here.
I spotted this coat on Irish Blogger Love Lauren and adored it. It's so stylish and so different. Very Kardashian like too, but fair more wearable and accessible. This gem is from Crave Closet (I think I now know why it's called Crave, because I am craving everything on the site!!) It is €55.99 and available here.
Hope you enjoyed my Sunday Style Wish List.
Happy Sunday!
Sincerely,
Sarah Jane xx
Why not have a look at some of my previous Fashion Friday blog posts here.