Blake Lively is a style queen in seven outfits in one day!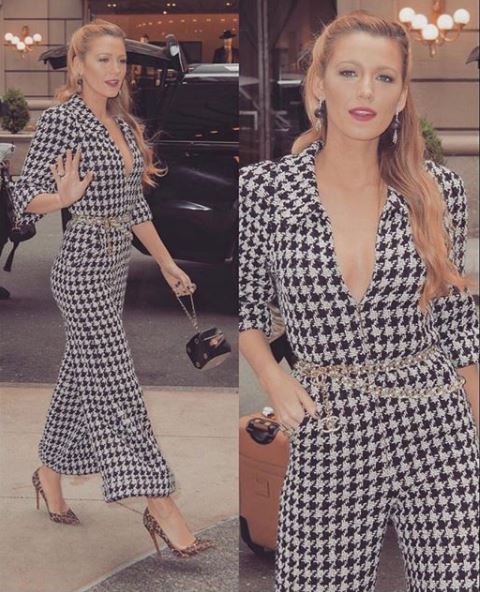 Blake Lively showed the world why she is indeed a style queen when she slayed in not one, not two, but SEVEN outfits in one day on her "All I See Is You" press day tour. I can barely get dressed once a day, how the hell did she do it and absolutely SLAY it?! (I know she has a great team etc behind her but still!!)
Outfit One
First up was this gorgeous sunny yellow 2 piece from Brandon Maxwell's Spring 2018 collection, fresh off the New York Fashion Week runway. Blake Lively paired it with two statement earrings for her appearance on Good Morning America.
Outfit Two
Blake's next look was another look straight from the runway. She donned an Oscar de la Renta dress and Christian Louboutin printed pumps. Not to leave anything the same as the previous look, Lively even changed her hair to loose curls.
Outfit Three
By far my favourite outfit of the day (I wonder why?!!). Blake changed it up with a Houndstooth jumpsuit from Channel. Blake styled the look with a chain belt and box bag by the French house. She changed her hair style again, this time pinning it to the side.
Outfit Four
Just when you think she can't look any better, she goes and does this. Channelling some masculine vibes, she wore an all plaid 3 piece suit from Ralph Lauren with oxblood boots and a brown crocodile Hermès Birkin bag. She even thought of a necktie and two pocket squares to complete the look!!
Outfit Five
Blake's fifth look included lots of layers! She wore a blue wrap dress, maroon leather jacket, a basket woven handbag, and floral printed boots. Again, she changed her hair a side braid. Girl, I can hardly brush my hair some days!!
Outfit Six
Another Channel outfit! She sparkled in this metallic gown which she teamed with a white coat and silver strappy heels. Hair change again – this time wavy and to the side!
Outfit Seven
Last look of the day and just as stylish as the other six even when she's dressing down (HOW DOES SHE DO IT?!!)
She wore a Monse top with navy trousers, fabulous red shoes and a red coat as she stepped out with husband Ryan Reynolds. Her hair was even a little different – with more bouncier curls!
One thing that is for sure, Serena van der Woodsen would be so proud of Blake and her incredible style, all in a day's' work!
Forever a style queen!
Sincerely,
Sarah Jane xx
Fatal error
: Allowed memory size of 134217728 bytes exhausted (tried to allocate 20480 bytes) in
/var/www/vhosts/sincerelysarahjane.com/httpdocs/wp-includes/class-wpdb.php
on line
2153
Fatal error
: Allowed memory size of 134217728 bytes exhausted (tried to allocate 32768 bytes) in
/var/www/vhosts/sincerelysarahjane.com/httpdocs/wp-content/plugins/woocommerce/includes/class-wc-log-levels.php
on line
1