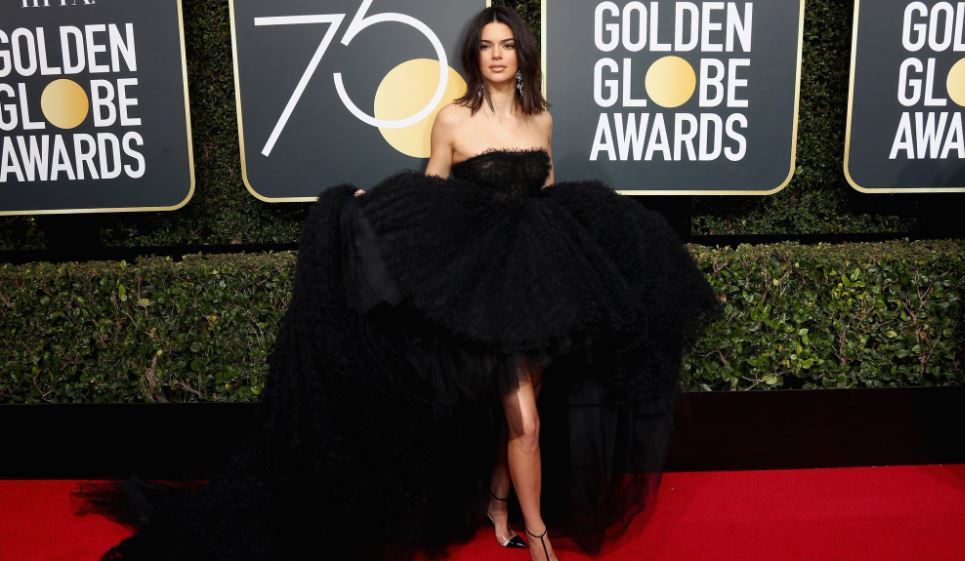 The Golden Globes 2018 will go down in history as the most memorable and for all the right reasons! From almost everyone wearing black in solidarity with the women in Hollywood who received abuse and harassment, to Oprah Winfrey's incredible speech and of course, our gal Saoirse Ronan finally winning an award – it certainly was an award show to remember!
MY MOST STYLISH LADIES:
Kendall Jenner
If you know me, you know this was ALWAYS going to make the list because it is tulle and I LOVE TULLE! It might not be everyone's cup of tea but this Giambattista Valli definitely caught everyone's attention.
Penelope Cruz
Penelope almost always gets it right and she did once again in this strapless lace Ralph & Russo gown.
Mariah Carey
I love this Dolce & Gabbana dress on Mariah. She sometimes goes overboard with her style but this is just beautiful and suits her figure so well.
Millie Bobby Brown
Just 13 years old and already she is a fashion killer!!! Her gown is Calvin Klein.
Saoirse Ronan
Our Irish belle Saoirse wowed in Atelier Versace. So simple but so elegant.
Dakota Johnson
Dakota stunned in a beautiful Gucci dress and although the front was a bit blah, the back was magnificent.
Reese Witherspoon & Eva Longoria
Reese went with a one-shouldered, absolute definition of glamorous gown with a train!
Eva showed off her lovely bump in a long-sleeved gown with a thigh-high slit.
Elisabeth Moss
Elisabeth changed things up on the red carpet in this three-quarter-length dress with a jeweled collar and she rocked it.
MY MOST STYLISH MEN:
Kit Harington
Kit looks dashing in his Dior Homme ensemble.
Chris Hemsworth
Chris looks very dapper in this gorgeous Etro suit.
Zac Efron
Zac has just got better with age and last night he was drop dead GORGEOUS!
And of course, I can't go without mentioning that speech. Oprah Winfrey received the Cecil B. de Mille Award last night and used her time accepting her award to her advantage to use her voice as a platform to help women and show them their worth.
The most striking part of her speech had to be the following sentence:
"I want all the girls watching here and now to know that a new day is on the horizon. And when that new day finally dawns, it will be because of a lot of magnificent women, many of whom are right here in this room tonight, and some pretty phenomenal men, fighting hard to make sure that they become the leaders who take us to the time when nobody ever has to say, 'Me too' again."
#TIMESUP
Sincerely,
Sarah Jane x
Fatal error
: Allowed memory size of 134217728 bytes exhausted (tried to allocate 69632 bytes) in
/var/www/vhosts/sincerelysarahjane.com/httpdocs/wp-includes/class-wpdb.php
on line
2154
Fatal error
: Allowed memory size of 134217728 bytes exhausted (tried to allocate 163840 bytes) in
/var/www/vhosts/sincerelysarahjane.com/httpdocs/wp-includes/plugin.php
on line
177