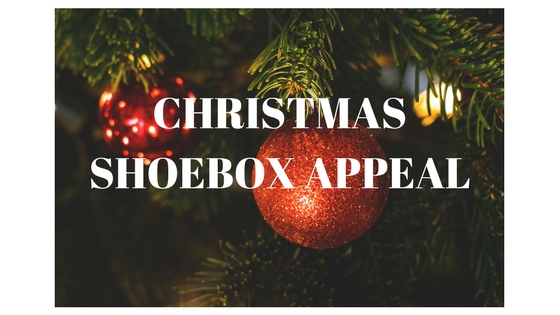 Why not share Christmas this year with a child less fortunate? Every year, Team Hope run the Christmas Shoebox Appeal and help make a child's life that little bit better.
I remember every year when I was in Primary school and Secondary school gathering a shoebox and filling it with lots of treats and stationary to send to a child less fortunate than me. Since leaving school, my Mam and I continue to do it every year.
Have you ever watched the videos where the little children in these poverty stricken countries receive the shoeboxes? Oh my god, seeing their faces light up and being so happy to receive the boxes is so emotional and it makes you feel so good that you've helped those children feel like that.
This year, Team Hope want to send even more shoeboxes to as many children in poverty stricken countries or children in countries that are affected by conflict. You can help make a child's Christmas that extra special!
WHAT YOU NEED
An averaged sized shoebox wrapped in Christmas paper. DO NOT seal box with tape as it has to be checked. Wrapped it with an elastic band.
You will also need to send €4 so the box can be sent. You can do this by donating it online at www.teamhope.ie
You will need to go onto the Team Hope website to print a label for the box. You can choose to donate to a boy or girl and choose the age range which is: 2-4, 5-9, 10-14.
WHAT TO PUT INTO THE SHOEBOX
Stationary
pens
pencils
copybooks/notebooks
paper
colouring books
felt pens
sharpener
eraser
Hygiene
toothbrush
toothpaste
facecloth
soap (wrapped)
hairbrush
Clothing (SMALL ITEMS)
hat
scarf
gloves
underwear
socks
flip flops
Treats
small toys
sunglasses
sweets (must be in date until at least April 2018)
cuddly toy
skipping rope
yo-yo
torch
DO NOT PUT IN:
Food (except sweets)
Anything breakable
Chocolate
Liquids
Medicine
Scary things
War related items
Books with words
Large clothing items
For any other information, check out the Team Hope website here.
The deadline for dropping off the shoeboxes in November 10th and to check where your local drop off is, click here.
I urge you to take part this year. Go to your nearest Dealz or Euroworld and pick up the few bits that are needed (I am telling you, you can fill that box for under €20!!) and you will have made a huge impact on a little child's life.
Sincerely,
Sarah Jane x
Fatal error
: Allowed memory size of 134217728 bytes exhausted (tried to allocate 20480 bytes) in
/var/www/vhosts/sincerelysarahjane.com/httpdocs/wp-includes/taxonomy.php
on line
3803
Fatal error
: Allowed memory size of 134217728 bytes exhausted (tried to allocate 20480 bytes) in
/var/www/vhosts/sincerelysarahjane.com/httpdocs/wp-content/plugins/woocommerce/src/Internal/Traits/AccessiblePrivateMethods.php
on line
158