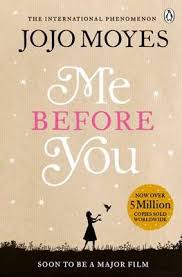 It's been a while since I have reviewed a book on here but that's because I haven't found the right one to express my thoughts on. That was until I read Jojo Moyes' Me Before You.
Before this book, there has only been 5 books that made me really cry. Those are: My Sister's Keeper, The Fault in Our Stars, Looking for Alaska, All The Bright Places and The Gift. To give you an idea, when it reached the climax of Looking for Alaska, I threw the book across the sitting room floor and sobbed for about 20 minutes before picking up the book and finishing it. BUT not one of them compared to this. Me Before You, oh my god. I could barely see the writing on the pages for the last 100 pages or so because I was crying so hard.
Firstly, Jojo Moyes done a great job on writing this book. When you start reading this story, you have an idea how it is going to end, and you prepare for a not so happy ending. But throughout the novel, this changes and you begin to believe that Lou can change Will's mind. That is what is the most heartbreaking thing about the story.
Okay, the plot!
26 year old Louisa aka Lou works in a cafe in a small town for over 6 years and is comfortable with her life. That is until the cafe closes suddenly. With no skills, she is lost as to what to do. Then the opportunity to be a career for a young man, Will Traynor, who had become a quadriplegic and with her family circumstances and her wages being the main source of income, it was an offer she couldn't refuse.
At the beginning, you feel annoyed yet sympathetic towards Will. He is rude and angry. I would be angry too, he went from a man who had it all, good job, wealth, travelled the world, beautiful girlfriend – everything – to a man who needed 24 hour care because he had no use of his body below his chest. But being rude towards everyone, including his mother, pissed me right off.
But as Will begins to warm towards Lou, you see a different side to him, a side that makes you like him. A LOT! I began crying when he first was nice to Lou. (I am such a sap, I know!)
I don't want to spoil the book so I won't say much more about it! I highly recommend it, I have been saying it to EVERYBODY!
I give it a 5/5 – it's that good! GO BUY IT!
It's available online here.
There is a sequel called After You, but I don't think I am mentally prepared for it just yet. It is on the list to get though!
X
Fatal error
: Allowed memory size of 134217728 bytes exhausted (tried to allocate 20480 bytes) in
/var/www/vhosts/sincerelysarahjane.com/httpdocs/wp-includes/class-wpdb.php
on line
2153
Fatal error
: Allowed memory size of 134217728 bytes exhausted (tried to allocate 32768 bytes) in
/var/www/vhosts/sincerelysarahjane.com/httpdocs/wp-content/plugins/woocommerce/includes/class-wc-log-levels.php
on line
1