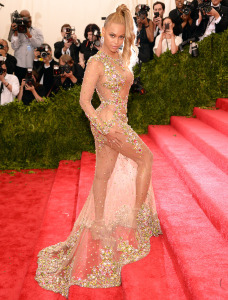 On May 4th, the annual Met Gala took place in New York City.
The Met Gala, previously known as the Costume Institute Gala , is an annual fundraising gala for the benefit of the Metropolitan Museum of Art's Costume Institute. But it is really known as the biggest fashion event of the year. The event has been held at the Met since 1971 and is considered to be the 'fashion industry's premier annual red carpet event' with all the big name celebrities attending the event yearly to kick off the fashion season with a bang!
Vogue editor-in-chief, Anna Wintour is the chair of the event and has been for over 19 years. Each year the event has a theme, and includes a cocktail hour and a formal dinner for all in attendance. 2015's theme was 'China Through the Looking Glass'. The guest list was kept to a 'minimum' of 650-700 a-list celebs and tickets were a pricey $25,000 to increase exclusivity. It's okay Anna Wintour, I didn't want to go this year anyway, I had plans to watch Gossip Girl instead.
My Best Dressed Ladies:
Beyonce, she just wins all the time! She looked flawless in her Givenchy Dress and Lorraine Schwartz Jewelry.
Kim Kardashian West looked simply gorgeous in her Roberto Cavalli dress and Lorraine Schwartz earrings.
Selena Gomez looked like a Chinese goddess in her Vera Wang dress and Lorraine Schwartz jewelry.
Amal Clooney stunned in her John Galliano and Lorraine Schwartz jewelry.
Kendall Jenner looked gorgeous in Calvin Klein and Chopard Jewelry.
Jennifer Lawrence kept it plan and elegant with her Dior Haute Couture dress.
Zendaya wore a beautiful Fausto Puglisi dress.
Jennifer Lopez looked fierce ( she's 45 and she looks UNREAL!) in her Atelier Versace gown.
My Worst Dressed Ladies:
I am extremely disappointed in the first two dresses here as they are from my favourite designer, Moschino 🙁
Linda Evangelista in Moschino
Katy Perry in Moschino
Solange Knowles in Giles Deacon. As strange as the other two dresses are, this tops them both. Like what is that Solange?
Best Dressed Men:
Ansel Elgort looked ever so handsome. I think he looked so handsome, people forgot to ask him who he was wearing. I could look at him all day. He is gorgeous. LOOK AT THAT FACE!!
Justin Bieber took note of the Chinese theme in Balmain
Dave Franco also looked handsome wearing Dior Homme. Also, where is your hair gone Dave? :'(
And once again, the most anticipated Fashion Night is over! Can not wait for next year and another crazy theme, with more outrageously gorgeous outfits!
Fatal error
: Allowed memory size of 134217728 bytes exhausted (tried to allocate 20480 bytes) in
/var/www/vhosts/sincerelysarahjane.com/httpdocs/wp-includes/class-wpdb.php
on line
2153
Fatal error
: Allowed memory size of 134217728 bytes exhausted (tried to allocate 32768 bytes) in
/var/www/vhosts/sincerelysarahjane.com/httpdocs/wp-content/plugins/woocommerce/includes/class-wc-log-levels.php
on line
1