Miley Cyrus's Bangerz Tour Hit Dublin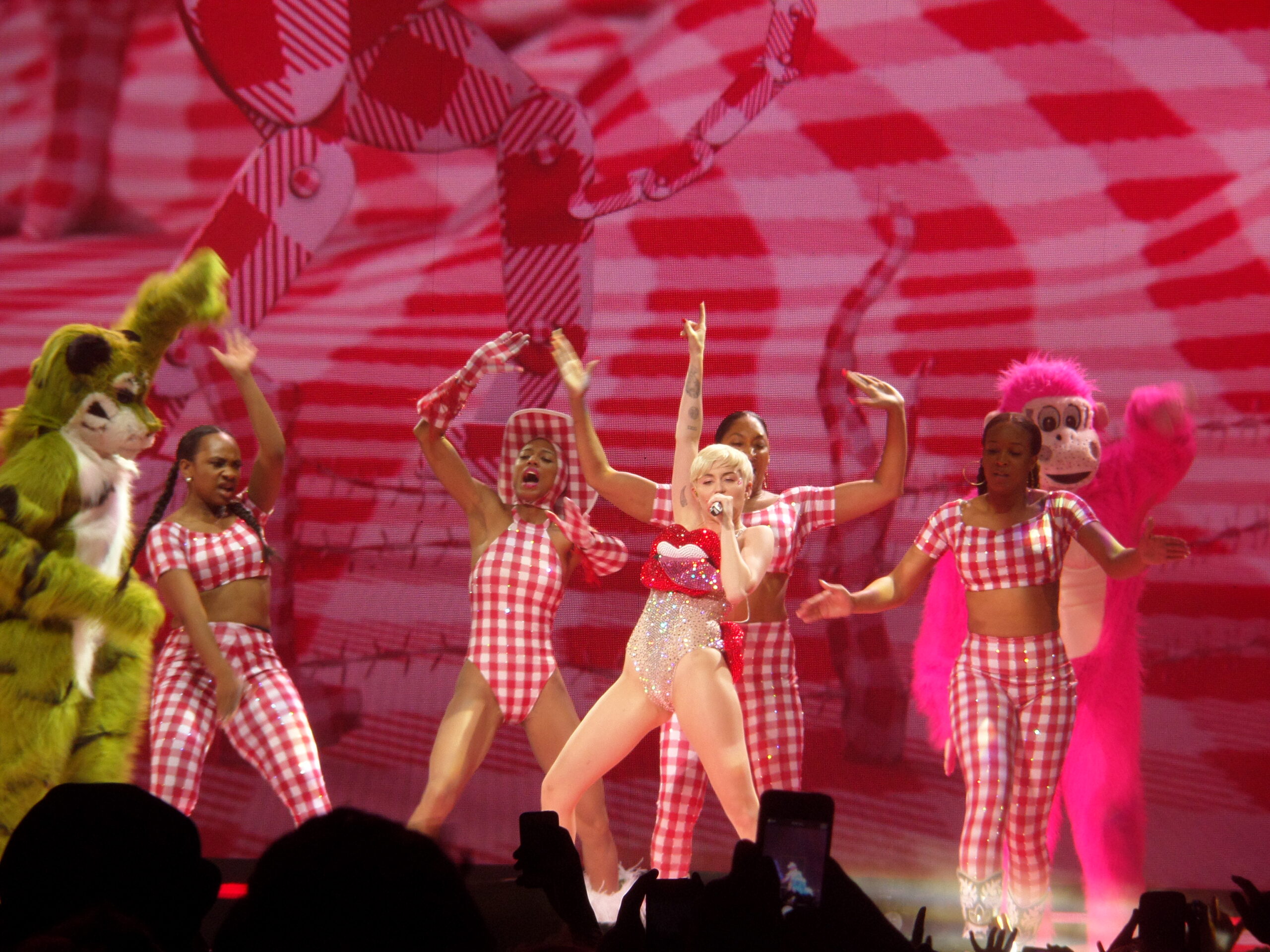 Whether you love her or hate her, you can't ignore her. She's one of the most talked about pop stars of 2014 and she certainly knows exactly what she has to do to grab your attention!
Last night, 20th of May, I headed along to see Miley Cyrus as she was set to take the stage of Dublin's O2 Arena. I knew right well what I was going to witness on stage and was fully prepared for the 'twerking' and the 'tongue action' and skimpy outfits. Miley is a performer and she done exactly that. People are often to quick to judge people in the music industry. Nowadays, musicians have to carry out controversial performances and do outrageous things to stay in the limelight. Everyone seems to forget Miley is just 21 years old and she is doing exactly what most young girls do, having fun and living her life. If you went to any college throughout Ireland on a night out, you'd seen many girls do the same things, if not worse! Downside is, everything in Miley's life is under scrutiny by the public and media.  There were one or two times on stage last night that I saw that a young girl having fun.
Miley kicked off the show with a huge picture of herself on the screen and a slide in the shape of a tongue emerged from the screen and Miley made her extravagant entrance.
[youtube http://www.youtube.com/watch?v=VjwcN2ROm4Y&w=420&h=315]
She performed a mixture of songs, 14 of which are from her BANGERZ album, an acoustic set which included covers of Summertime Sadness, Jolene and There Is A Light That Never Goes Out but only opted to perform 2 of her old songs, Can't Be Tamed and Party In The USA. 
Miley changed outfits at 7 times and all bar one were based around leotards. While the media slate Miley for not having respect for herself with her revealing clothes, if you actually looked closely to the star's outfits last night, you could visibly see Miley was wearing a skin tone body suit to respect her modesty. Below are some of the pictures I took last night.
Miley felt so comfortable on stage last night and it beamed throughout the show. She certainly didn't come across fake or over-rehearsed. She interacted with fans and it was so natural. Just before she sang her hit 'Wrecking Ball', the 21 year old paused, when she was told not to talk but couldn't help herself and commented on how the Irish started a chant while she was getting dressed under the stage and made the crowd re do the 'Woo Woo Woooo' chant and danced away to herself. She even said that 'That Sh*t is for sure gonna be on my next album you motherf*ckers!!'
The media and public need to start paying more attention to Miley's voice as she is so talented vocally. This was highlighted especially when she done her acoustic set during the middle of the show. Below are some of the videos I took last night during the show. (I will add more once they've uploaded to Youtube, joys of living in the countryside!)
[youtube https://www.youtube.com/watch?v=DOqpPqrk35U&w=560&h=315]
What shocked me the most last night though was the swarm of young girls absolutely hammered averaging from 13 to 16  dressed in less clothes than Miley herself. With the majority of the world slamming Miley for her choice in clothes or lack of clothes she wears, I was gobsmacked when I arrived at the O2 to see so many girls with SO much flesh on show. Also, why pay €80+ to attend a concert if you are going to get that drunk, not remember it and potentially ruin the night for others. I'm not saying having a few drinks at a concert is wrong, I've done it. It was the fact that these girls were so out of it and were an embarrassment to themselves. In my opinion, I go to a concert to see the artist live, embrace the music and enjoy it. The amount of girls that bumped into me while I was trying to enjoy the concert is ridiculous, one almost hurt my mother when she fell onto her because she was so drunk she couldn't hold herself up.  I felt so angry when I saw a vast majority of people running to the bar every 5 minutes while Miley was on stage. To me, that was the height of ignorance to Miley. You might as well went to a pub or club if all you cared about was the drink! Now I know people will think I am being two faced here but there is a difference in having fun and being plain stupid. There is a time and place to be drunk, and personally, a concert is not one of them.
Aside from that negative point, Miley certainly put on an entertaining show, maybe not suitable for all ages but hey, even Beyonce is provocative at times! I read somewhere today that 'Hannah Montana is truly dead', and that person is right, people need to move on from that phase. Miley Cyrus,as we know her now. is here to stay for a long time yet.
Fatal error
: Allowed memory size of 134217728 bytes exhausted (tried to allocate 262144 bytes) in
/var/www/vhosts/sincerelysarahjane.com/httpdocs/wp-includes/class-wp-object-cache.php
on line
316
Fatal error
: Allowed memory size of 134217728 bytes exhausted (tried to allocate 262144 bytes) in
/var/www/vhosts/sincerelysarahjane.com/httpdocs/wp-includes/class-wp-recovery-mode.php
on line
173