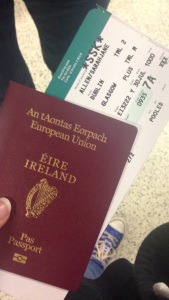 2014 has been one rollercoaster ride! It's been a bit of a crappy year for me and my family to say the least but throughout the sadness and bad news, I have had some of the best times of my life this year! Below I want to share some of my favourite highlights of 2014 (in no particular order!)
Commonwealth Games in Glasgow
The Commonwealth Games took place in August in Glasgow. It has been on my bucket list for years to attend them and when the opportunity arose that I could go, I grabbed it with both hands (and grabbed my mother too!) and headed to Scotland.
One of the main reasons I wanted to go was to see Tom Daley dive. Tom was diving in the Men's Individual 10m Platform Diving competition on the 2nd of August and up until 9am that morning I hadn't got a ticket, I was devastated, even though I did see him on the Thursday night when I went to see Jack Laugher dive in the 3m Men's Springboard competition,  I wanted to see him dive. But luck was on my side and at 9:58am on the 2nd of August, I got the last ticket to see Tom Daley dive that evening in the Final and I saw him win Gold. I shook with happiness when I got the ticket!
As I mentioned earlier on, I got to see one of my other favourite divers, Jack Laugher dive in the Men's 3M Springboard Final on Thursday 31st of August and I witnessed him win Silver.  Luck was on my side again, as when I was at the Closing Ceremony of the Commonwealth Games, I got to met him. He ran over to me after I called his name so many times like I was Rose calling Jack in the titanic! I was extremley happy. My trip to Glasgow was a very successful one. A few more things off the bucket list 😉
Paris
One of my best friends lives in Lyon, France and she turned 21 this year and I wanted to surprise her with an unforgettable birthday present. So I secretly flew over to Lyon, even though she found out on that day I was arriving, and surprised her. But what she didn't know was that I had got two standing tickets to see One Direction in Stade de France in Paris on the following Friday! So on the 19th of June, we carpooled to Paris, one of the longest but most beautiful and exciting road trips ever, and at midnight we arrived in Paris! We got up early the next morning and done a bit of site seeing before the concert! We saw the Arc de Triomphe and had breakfast in a cute cafe on the Champs Elysees.
After that, we took the Metro and went to the Eiffel Tower! It was such a beautiful day and the view was beautiful. Melo and I have this thing were we like to take cool photos in iconic places and what better place to do this than the Eiffel Tower!
5 Seconds of Summer in London
On March 3rd, I got to see 5 Seconds of Summer in Shepherd's Bush in London with my 5SOS buddy Giana and some other girls I became friends with through the boys!
We queued from 9am that morning, it rained and was so cold. The things we do for those 4 Aussie babes!! The venue is a intimate venue with a capacity of 2,000 people. We were standing, hence why we were queuing so early. We ended up being front row and that was an amazing experience. Every time I see 5 Seconds of Summer live, they just get better and better. I've been to over 60 plus concerts and this was up there in my top ten concerts. It was one of those concerts where you just got lost in the moment, in the music. Being there with friends I had made through the boys was even better. Giana and I have this tradition and it's #GettingDrunkAt5SOS and we have so much fun playing games in the queue! I find it amazing how some of my good friendships are formed because of bands! Looking forward to seeing Giana in London at 5SOS next June 😉
Turning 21
On the 3rd of November, I turned 21. 21 years old. What a milestone to hit. I had my dream 21st Birthday party on the 31st of October, in Great Gatsby style! It was one of the best nights of my life and I got to celebrate it with all my closest friends and family. I will never forget that night (even though I did drink a lot!) because I finally felt happy, within myself and in my life. At one part of the night, I stood alone with the bottle of champagne the pub gave me for my birthday on the dance floor and looked around and just smiled. I had never been more happier in my life.
Meeting Shane O'Donnell 
In 2013, Davy Fitz asked a certain 19 year old man to play in the All Ireland Hurling Final Replay and wanted him to do one thing and one thing only – score goals! That man certain done that! Shane O'Donnell scored 3-3 in the replay and Clare won the All Ireland! Shane O'Donnell became the Niall Horan of GAA that day! He became my favourite hurler that day too, purely because of his hurling skills.. Nothing to do with his looks at all! 😛
3rd night of Where We Are Tour in Croke Park
I was privileged enough to go see One Direction on their Where We Are Tour in Croke Park 3 times. On the Sunday, I got a standing ticket and went with my friends Flozey and Susan (plus her sister Janet!). The two previous nights were incredible but the 3rd and final night was something special. I don't exactly know why it was more special than the other two, but it was the best show of the weekend. I got some incredible photos of the boys and Harry even waved at me (The video is on my Instagram!).
How big 5 Seconds Of Summer Became
2014 was the year of 5 Seconds of Summer. They were the breakthrough artist of the year and took the world by storm. With two number one singles, with 'She Looks So Perfect' and 'Don't Stop' in the UK and USA, and their debut album reaching number one in the USA. The boys seem to be a huge success in Ireland also, with both 'She Looks So Prefect' and 'Don't Stop' reaching number one here and 'Amnesia' and 'Good Girls' both charting in the top 20 singles and the album also debuting at number one. I'm incredibly proud of these boys and look forward to what 2015 has in store for them.
Being front row at Cody Simpson and having Jackson Harris sing to me
On July 4th, I saw Cody Simpson in the Bord Gais Energy Theatre in Dublin. Thanks to my friends Sophie and Jade, I had a front row ticket to the show. For his support act, he had Jackson Harris, an American singer. One thing I certainly haven't forgotten is Jackson singing to me. I barely knew of him before the show but by the end of his set, he truly won me over. When Jackson was singing his song Right Kind of Wrong, he spotted me singing along to the chorus and of course I got all shy and embarrassed, which made him come over to right in front of me, he knelt down, held eye contact with me and smiled while sang to me and even held my hand. I got so hot and bothered that my friends Jade and Sophie had to fan me down when he stopped singing to me. My favourite thing about Cody's concert (apart from Jackson singing to me!) was that it was an acoustic concert.  I wrote a blog about the concert so check that out!
Seeing Demi Lovato live in concert (FINALLY!)
For my 21st Birthday my best friend Sarah Coghlan ( she has an INCREDIBLE blog too, check it out!!) surprised me with a ticket to Enrique Iglesias's concert in the 3 Arena on the 23rd of November. More importantly, Demi Lovato was Enrique's support act. When I opened my card from her and saw the ticket, I was next to tears. I was shaking. She was making one of my ultimate dreams come. To this day, I still can't thank her enough. When Demi came on stage that night, my heart stopped. I shooking and cried from the minute she came on stage. Demi has been a huge idol to me since 2010 or thereabouts. When she sang Skyscraper and Nightingale, I cried the whole way through both songs. I looked like such an idiot but I didn't care. Nobody, not even Sarah (although she knows how much I adore Demi) knew how much that moment meant to me. I was so extremely happy. Nothing. I mean NOTHING, could of ruined that moment. I was with one of my best friends, who bought me that ticket, seeing my ultimate idol live. I still can't believe it. Hearing my favourite song Neon Lights live was incredible. I never felt more alive than I did at that moment.
Meeting 4/5 of the Janoskians after sneaking into the Four Season's Hotel
Jade and I snuck into the Four Season's Hotel. Like I don't know how we done it but we did. Thank god we did. We met Skip in a bathroom towel (love heart eyes emoji) and spoke to Jai properly and got him to follow me on Twitter. But we did get kicked out after that. We still managed to meet James and Luke outside. My favourite was finally meeting Luke, god I love him! He gave me a kiss on the cheek! Beau wouldn't come out to meet us though 🙁
Elizabeth's Sweet 16th
My darling Elizabeth turned 16 this year. Words don't explain how much I love that girl. I can't believe she is 16. I can't imagine my life without her. She is such a beautiful, kind hearted, loving, special lady and I'm so proud to be her cousin. She makes be a better person, she makes me smile when I'm down and she gives me strength when I am weak. She is such a strong girl for everything she goes through and she never complains and is always with a smile! She has taught me to treasure the little things in life.
My Dad getting elected for the Central Council Delegate for Laois GAA County Board
On the 8th of December, my Dad got elected to be Central Council Delegate for Laois GAA and I couldn't of been any prouder of him. My Dad had a very bad year in 2014 and this was the lift he needed. The spark that had been missing came back into my Dad. Once again he was the underdog and once again shocked everyone and beat off all competition. I don't say it to him very often, but I am very proud of my Dad and all he has achieved. He works so hard and does so much for Laois GAA and it's nice to see that people appreciate my father. So Dad, if Mam has told you about this or is showing you this, I told you you could do it. Once you believe in yourself, you can do anything. You know what you are talking about when it comes to GAA and you are the man for any GAA job in my eyes. Words don't even describe how proud I am of you. I love you Daddy.
X Factor in November
As part of my 21st Birthday present, I got to go to Wembley to see the X Factor Studios and my favourite contestants. It is something I will never forget! I wrote a blog about it, if you want the full story! I got to meet Only The Young and 7/8 of Stereo Kicks. I also made a new friendship with Tania who has been incredible to me since.
Becoming even closer to Sarah, Aislin and Joe
Sarah, Joe and Aislin. I'd be lost without them. It is as simple as that. I love the 3 of them so much it hurts. They mean the world to me. 2014 has given me so many good memories with this trio. I could talk all day about them. But they know why they made my 2014. I Love you guys.
2015, please have less sad and bad moments for my family and me. Please me full of happiness and memories to cherish.
Fatal error
: Allowed memory size of 134217728 bytes exhausted (tried to allocate 262144 bytes) in
/var/www/vhosts/sincerelysarahjane.com/httpdocs/wp-includes/taxonomy.php
on line
3800
Fatal error
: Allowed memory size of 134217728 bytes exhausted (tried to allocate 262144 bytes) in
/var/www/vhosts/sincerelysarahjane.com/httpdocs/wp-includes/class-wp-recovery-mode.php
on line
173