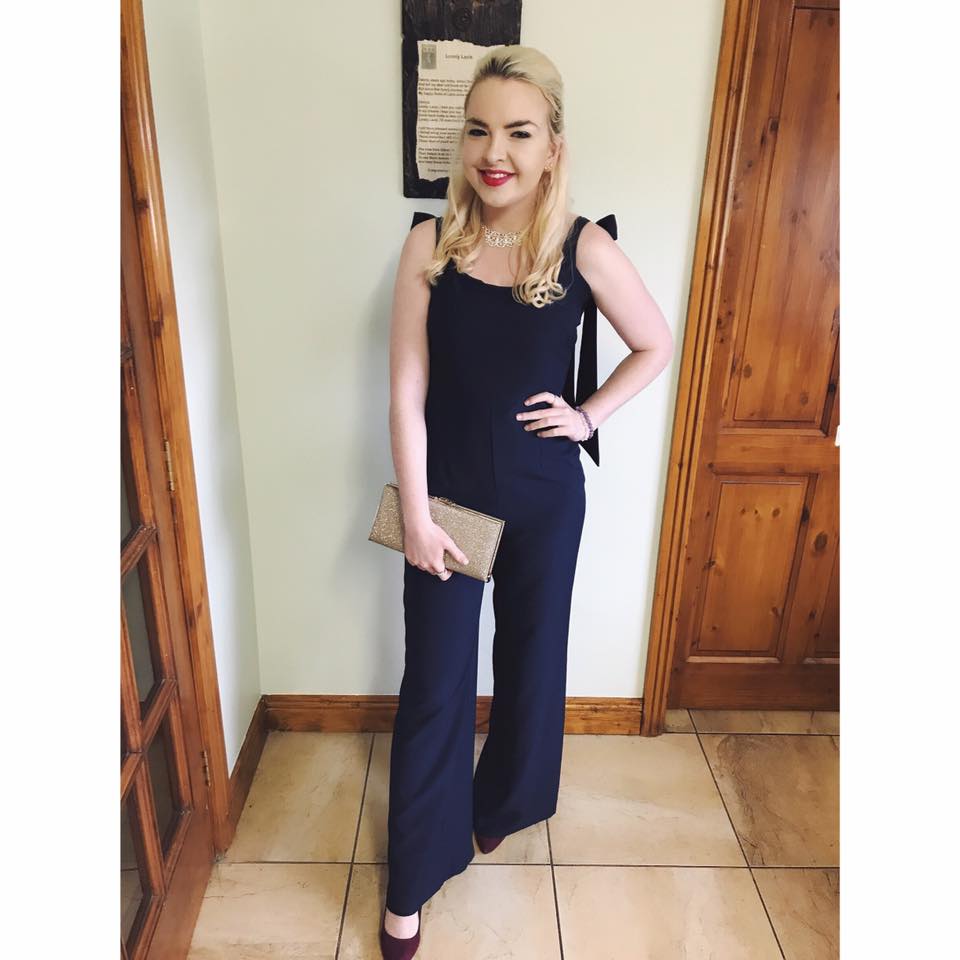 Two weeks ago, I wore a jumpsuit to my graduation and received so many complements about it. When shopping for my outfit, I realised that the jumpsuit has come back into fashion for A/W this year and it has quickly become a key piece in a fashionista's wardrobe.
My navy jumpsuit is from Born Boutique and was around €64. It is also available in black. However, I'm not too sure if it is still in stock or not. But I'm sure if you enquire, they might have it still. One of my favourite things about my jumpsuit was the back detail. Now, sadly, I didn't take a photo of the back of it but the shoulders has straps that turn into bows and it just added that little something to the look. You can kind of see the detail on the right side of my photo.
*UPDATE* I found this jumpsuit online! It is available in 3 colours on iclothing.com and you can check them out here. It is also cheaper there too so bargain!!!
Here are some of my top tips when buying a jumpsuit:
When it comes to jumpsuits when you are tall, you have to consider the leg shape. A wide leg shape is better suited and much more flattering.
Another tip I have is I always make sure that there is some sort of detail or shaping around the waist area as that also shows off your figure better. Getting a jumpsuit that literally just hangs off you is not the way to go!! For me, one that clinches in at the waist is ideal for me as it is the smallest part of my body.
Something else you should be wary of is the crotch area!!! You don't want any cameltoe!!
If you are short, stick to fitted and long jumpsuits. Oversized jumpsuits will just overshadow your small frame.
I have picked out my favourite three styles of jumpsuits online at the moment below.
This jumpsuit is very much the same style as the one I wore. It has the small waist and the wide leg detail which are fab for tall people. It is €95 and is available at Littlewoods.ie here.
This wine coloured jumpsuit is perfect for A/W17 and is more suited towards smaller people as it has the slim fit leg. Now that is not saying it wouldn't suit tall people, it will. So if you are confident in your shape, by all means go for it! It is £45 and available from ASOS here.
This final jumpsuit I have chosen is a wild culotte leg and only tall people should go for this style, as if you are under 5ft5, it will only make you appear smaller. It is €38 and is available from Missguided here.
Sincerely,
Sarah Jane xo
Fatal error
: Allowed memory size of 134217728 bytes exhausted (tried to allocate 69632 bytes) in
/var/www/vhosts/sincerelysarahjane.com/httpdocs/wp-includes/class-wpdb.php
on line
2154
Fatal error
: Allowed memory size of 134217728 bytes exhausted (tried to allocate 32768 bytes) in
/var/www/vhosts/sincerelysarahjane.com/httpdocs/wp-content/plugins/woocommerce/includes/class-wc-log-levels.php
on line
1