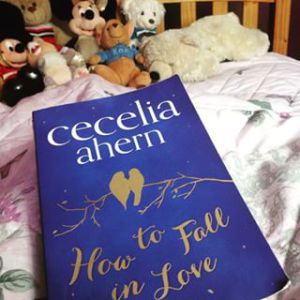 I know I haven't blogged much in May, life has just been crazy! But summer is soon, and I have loads of time to blog then! I am currently preparing to leave to catch a flight to London for the weekend and decided to post this blog before I leave!!
So here is what I enjoyed for the month of May!
Fashion
So my favourite outfit of the month had to be a crop top and high waisted skirt outfit I got from New Look here for £38. I wore it to the first night of the Rose of Tralee Regionals in Portlaoise last weekend. I wore it blue shoes from Pennys/Primark which were €18 and a handbag from New Look here for €30. I kept my hair slicked back and simple as the outfit was very vibrant! 
Movie
I went to see the highly anticipated Pitch Perfect 2 with Sarah, Joe and Lisa and OMG it was amazing. Almost better than the first movie. So it was basically about the Bellas trying to recover after being humiliated in front of the President of the United States of America and as a result, the Bellas are taken out of the Aca-Circuit. In order to clear their negative image and recover their status, the Bellas must win an International competition which no American team has ever won. But to achieve this, they need to go back to basics and work on their connection as friends and sisterhood. It is hilarious and the music is great. The ending of the movie is so good and unexpected! Is there going to be a Pitch Perfect 3? I do hope so!
Food
I've been having a guilty treat a lot in May and that is the Chocolate Muffin and Ice Cream from Supermacs. Now, I don't like Chocolate that much and only eat M&M's but that muffin and ice cream is heavenly! I even want one now.
But on a healthier note, it is now summer time meaning that Fresh Strawberries are everywhere and I love it! Strawberries are delicious this time of the year and are a healthy snack instead of grabbing that bar of chocolate or that muffin and ice cream!! 
Music
LITTLE MIX ARE BACK!! So obviously my favourite song at the moment is Black Magic and you will hear me singing along to it as if I was Perrie Edwards (A GIRL CAN DREAM, RIGHT?) I love this tune. It's so catchy and is a feeling good song!
[youtube https://www.youtube.com/watch?v=MkElfR_NPBI&w=560&h=315]
Home Decor
Home Decor again! So I am loving candles at the moment, if you haven't noticed. I bought this Red Raspberry Yankee Candle recently for €9.99 and oh dear god, it smells divine!!! It makes my room smell beautiful, even when it isn't lighting!
Book
I have been reading Cecelia Ahern's How To Fall In Love. I haven't finished reading it yet, I didn't have much time to read this month! Anyway, the book is about how Christine and Adam are thrown together on the night she stops his suicide attempt on Dublin's Halfpenny Bridge. Christine is determined to help Adam. He gives her a deadline of his birthday to convince him life is worth living, which she discovers is in just two weeks time. At first, it is Christine who is meant to be saving Adam, but it soon becomes clear that Adam might just be saving Christine too. It is a really good book, I love a good Cecelia book!
Youtuber
Queen Tyler Oakley is my favourite for May, mainly because I saw him live in May. Tyler is a 26 year old American Youtuber, television and podcast personality. He began making videos in 2007. He has over 350 videos on his main channel and has over 400,000,000 views and over 7 million subscribers. Tyler is probably the most well known and most loved Youtuber currently. And he slays (insert hair flick emoji here!)
This is his most recent main channel video
[youtube https://www.youtube.com/watch?v=enqv6hqU_9w&w=560&h=315]
[youtube https://www.youtube.com/watch?v=Ao9OP1kE_3E&w=560&h=315]
And this is his most recent vlog ( I know it's 9 months ago!)
Make Up 
So Su Nail Varnish is one of my favourite at the moment. The shades are all so beautiful!! My fave is Icing On The Cake! I goes on so easy and doesn't chip too quickly. It also doesn't have a strong smell like most nail varnishes. It's a great bargain for €7.99!
I have been seeing raving reviews about Rimmel's newest Mascara, Wake Me Up. I have had the same mascara for 3 years now so I decided I needed to try a new mascara and OH MY GOD I am so glad I picked this up! Firstly, it smells GORGEOUS! It smells like cucumber and is really refreshing! Secondly, it really opens my eyes and makes my eyelashes look even longer! I adore it, this will be my mascara for a long time!
That's it for my May Favourites, I'll see you in a month for June Faves!
xoxo
Fatal error
: Allowed memory size of 134217728 bytes exhausted (tried to allocate 69632 bytes) in
/var/www/vhosts/sincerelysarahjane.com/httpdocs/wp-includes/class-wpdb.php
on line
2154
Fatal error
: Allowed memory size of 134217728 bytes exhausted (tried to allocate 32768 bytes) in
/var/www/vhosts/sincerelysarahjane.com/httpdocs/wp-content/plugins/woocommerce/includes/class-wc-log-levels.php
on line
1